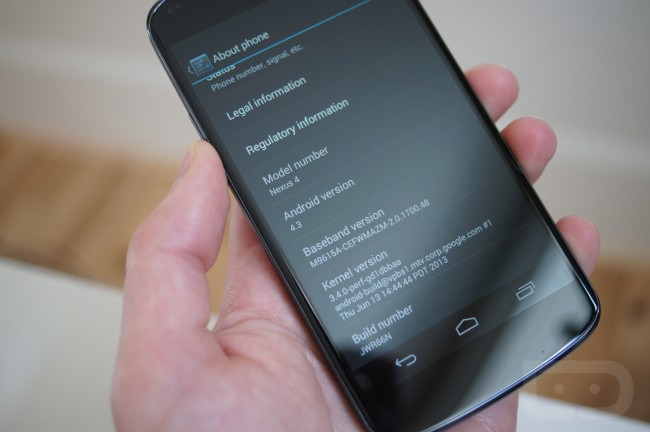 Last night during the DL Show, a reader tipped us to a G+ user who was claiming to have picked up a Nexus 4 from a Googler. Normally, this wouldn't grab our attention except that he claimed the device was running Android 4.3 and proceeded to post the screenshot you are seeing above. Towards the end of the show, we continued to follow along and then jumped in an IRC channel with the G+ user as the development community worked for hours to try and coach him through a full backup of his system. At around 11:00PM west coast time, they were able to successfully perform a full backup. 
As the evening wore on, a couple of developers were able to patch the backup into a flashable .zip, meaning all Nexus 4 owners now have the opportunity to run Android 4.3.
At the XDA link below, you'll find a couple of download links – one that is simply a rooted .zip, and another that is deodexed. Download them to your device, make a backup, and then flash through custom recovery.
More coming…
Via:  +Jeff Williams | XDA