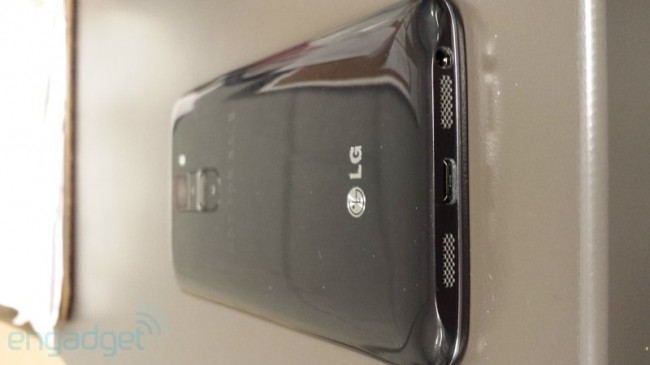 With LG's press event for early next month, we still have a little bit of time before the above pictured device, the G2, is official unveiled. Thanks to Engadget who recently got ahold of some nice pictures of the device, we now know exactly what we are in for. 
From what we saw in a previous press render leak, the device is ultra thin. So thin in fact that the volume rocker and power button have been placed on the device's backside, allowing for some serious cuts in dimensions. Beyond that, we can see LG has been working hard on their custom UI, throwing in on-screen navigation buttons and ridding themselves of those capacitive buttons that no one seems to be a fan of (at least many of us). One touch that we are really excited to see is the transparency changes between apps, as shown in the home screen image and the camera application image. Very nice touch.
You'll find dual speakers along the bottom side of the device and there is a nicely sized camera lens as well. From what we have heard about the specs department, LG isn't slouching on that either. The G2 will to sport the new Snapdragon 800 chip, 2GB of RAM and a lovely 1080p display that could push 5-inches.
The phone pictured is running on Sprint's network with Android 4.2.2.
Update:  A video of the device in action can be seen here.
Let us know what you think – fan of the volume rocker placement or any other thoughts on the G2?
Via: Engadget