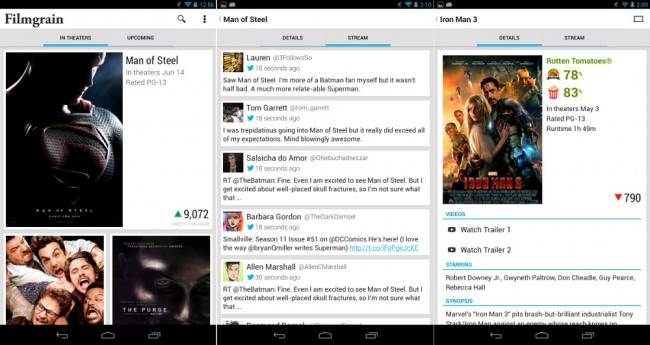 I wouldn't necessarily say that finding out which movies in theaters are popular with fans and critics is a difficult task, but the makers of one of our favorite apps (PushBullet) have decided they want to make it easier and based off of  Tweets. In a new app released to the Play store over the weekend called Filmgain, users can see trending current and upcoming movies all based on their buzz throughout Twitter. 
The app's user interface is incredibly simple, but takes on an infinitely scrolling Google Play-ish card style to represent movies and their Filmgrain score. As you can imagine, the higher the score it pulls in from Twitter, the higher up the list of movies it moves. As you scroll down, you'll obviously find less talked about films, but it could be a way for you to discover something you had never heard of in the past.
As you tap into a movie listing, you'll find a Details page that includes a Rotten Tomatoes score, along with a synopsis and trailer links. If you want to see what Twitter users have to say about the clip, you can swipe over to a Stream panel. I'd be a little worried about this being a stream of spoilers for current films, but in the Upcoming  movie section it could be a great place to find out info.
You can also find showtimes and ticket information with top-right situated icons that direct you to Google search pages.
Not a bad app, especially if you needed another outlet to find movie info through.
Play Link [More info]