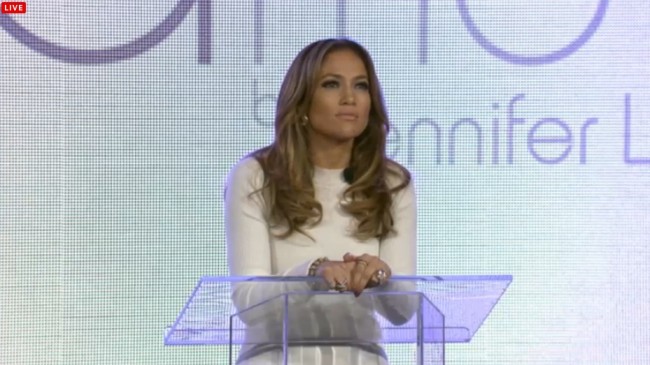 It's true, the moment Latinos who use Facebook and social networks have been waiting for has finally arrived. The first Viva Movil store has opened in Brooklyn! Jennifer "From the Block" Lopez and her colllooooors, and fonnnnnts, and casssses, are there to be had. According to the press release, she even personally selected a "unique" scent to fill the air to enhance the shopping experience as the kids play on the in-store playground. No, I didn't just make that up.
Oh, and should you actually insult humanity by supporting these stores, you can get Verizon's service and line of phones at them. 
[soundcloud url="http://api.soundcloud.com/tracks/93401104″ params="" width=" 100%" height="166″ iframe="true" /]
VIVA MÓVIL BY JENNIFER LOPEZ OPENS FIRST FLAGSHIP STORE ON FLATBUSH AVENUE IN BROOKLYN, NEW YORK 

Offering Customers a First-Class Wireless Shopping Experience  

Los Angeles, June 12, 2013 – Viva Móvil by Jennifer Lopez, the exciting new Verizon Wireless premium retailer founded by Jennifer Lopez, opened its first store in Brooklyn, New York, on June 11th, offering customers a first-class wireless shopping experience. In the coming months, Viva Móvil will open more stores around the county.

The brand's inaugural flagship is located at 162 Flatbush Avenue, right at the vibrant intersection of Flatbush and Atlantic Avenues and in front of Barclay's Center. It occupies a space of over 2,000 square feet and sits beneath a 1,700 square foot billboard announcing Viva Móvil's arrival.

The store itself will be characterized by a sleekly modern atmosphere befitting its state-of-the-art inventory, which includes the latest smartphones and tablets from Samsung, BlackBerry, Apple, Motorola, LG, Nokia, Droid and more, all of which are available on the Verizon Wireless network. All smartphones will be on display, powered on and ready to be experienced. The store will also include fashion smartphone cases from Jennifer Lopez for Viva Móvil and accessories from Samsung, BlackBerry, Otterbox, Harman Kardon and more.

Viva Móvil's expert staff will be fully bilingual and able to assist customers in Spanish or English, all while dressed in fashionable attire selected by Co-Founder and Chief Creative Officer Jennifer Lopez. Ms. Lopez has also selected a unique scent to fill the air of this entertaining shopping environment, which will feature music and a large video wall designed to amuse and educate consumers about the latest in wireless technology. In addition, the family-friendly store will feature ample seating and a Kids' Zone with several Samsung Galaxy Note® 10.1 tablets loaded with cool applications for kids to explore.

To reflect Viva Móvil's passionate dedication to delivering great value in many different ways, the 162 Flatbush Avenue location launches with a number of special deals for consumers, including an exclusive offer on attractive prepaid smartphones from Samsung and LG. All customers who activate a $60 or $70 prepaid Smartphone plan before September 30th will receive a one-time, 1GB data allowance above and beyond the selected plan, which is a cost savings of up to $50. Viva Móvil will also launch with FREE shipping for online purchases, special savings on BlackBerry smartphones and a large selection of smartphones for 1 cent.* (*New 2-year activation required.)

In addition to the new Brooklyn location, shoppers can experience Viva Móvil online and on the Facebook pages of Jennifer Lopez and Viva Móvil. On the Viva Móvil Facebook page, consumers can get personalized recommendations, shop with their friends, comment on devices and share what devices or accessories they purchased. Consumers can also interact with Viva Móvil on getviva.com.

With this inaugural store opening, Viva Móvil gives New York City an exciting new kind of wireless shopping experience and marks the beginning of a retail channel that will bring Viva Móvil's distinctly modern style of wireless shopping to consumers around the country. 

About Viva Móvil

Viva Móvil by Jennifer Lopez is a Premium Retailer of Verizon Wireless. Viva Móvil's mission is to deliver the best shopping experience for mobile across the United States, starting with stores in New York, Miami, Los Angeles and, of course, online. For more information, visit getviva.com and the Viva Móvil Facebook page today.

About Jennifer Lopez

Actress, entertainer, music artist, film & TV producer, fashion designer, entrepreneur and humanitarian, Jennifer Lopez is one of the most powerful and celebrated celebrities in entertainment. For more information, visit www.jenniferlopez.com.