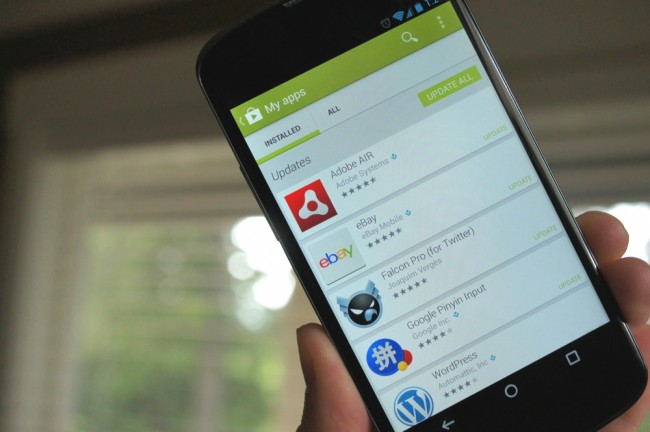 Wednesday appears to be app update day for Android, as a glance through my Nexus 4 revealed all sorts of new popular apps with new builds available. The biggest lies with eBay, which now has tablet support, an updated selling experience, and a redesigned home screen to name a few off the list of new features. But we're also seeing updates to WordPress, Blogger, Yelp, Falcon Pro, Adobe Air, and more.
The WordPress update (which was actually introduced yesterday) introduces notifications for new comments, followers, likes, etc. The Blogger update finally brings tablet support to Google's blogging platform, along with a WYSIWYG editor for existing posts. Yelp's update brought with it fixes for all sorts of bugs, but some new minor actions as well. Adobe Air and Falcon Pro updates are nothing more than bug and security fixes.
All changelogs can be found below. 
eBay
We've updated the eBay selling experience with a more intuitive interface and tons of new features, including:
Tablet support
Preview your item before listing it
Access your draft listings in My eBay
Selling now available in Ireland, Singapore, Malaysia, and Philippines!
Redesigned home screen with quick access to your recently viewed items (you can turn this off in settings)
WordPress
View new comments, followers, likes, and stats highlights.
Get push notifications to keep up with your site from wherever you are.
New menu icon added.
Settings and Sign out options have been added to the overflow menu for easier access.
Blogger
Tablet support
Improved compose screen – WYSIWYG editor for existing posts
Performance improvements
Minor bug fixes
Yelp
Better horizontal swiping through individual reviews
Photo rotation fix for certain devices when adding photos
Long-press copy actions on business pages
Log in to your account from the overflow menu on the home screen
Formatting updates for Duke / Regular awards & friend requests
Monocle fix when location services are off
And lots more…check it out!