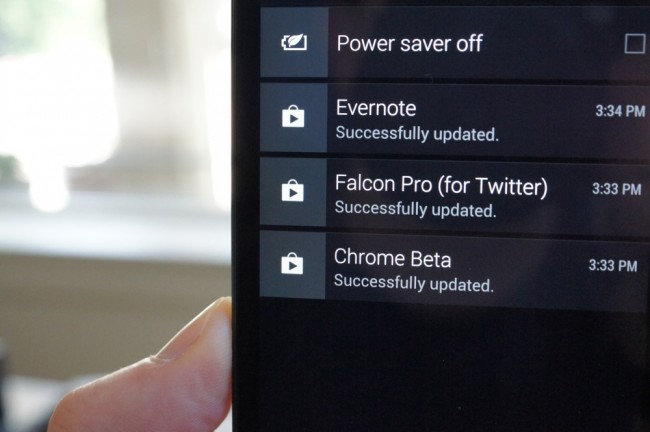 The day was filled with app updates for some of our favorite apps, with the biggest probably coming from Evernote. The popular note-taking app received its "most requested feature of all time," Reminders. Users can finally add reminders to notes, set alarms, and pin notes to the top of note lists, so that their lives can either feel complete or on the verge of becoming complete at all times. The Evernote update also improved copy and paste, corrected photo orders, improved shortcuts, and improved Japanese support. 
http://www.youtube.com/watch?v=FoTVN9HbsLM
But like I said, Evernote wasn't the only app to receive an update. Falcon Pro pushed out multi-account support (was previously in beta), improved the look with a flatter UI, introduced a black theme, added column swiping, and transition animations. It's a solid update that beta testers have been enjoying for a few days.
Chrome Beta received an update as well, along with DashClock. Neither are significant, but wanted to make you aware.
The changelogs for each app are included below.
Evernote:
Reminder: 3 features in 1

Alarms: Set due date and notifications for your notes
Note based to-dos: Mark notes as done
Pin notes: Order Reminder manually or by date

More Reminders features

Create Reminders in any note view and note composer
View Reminders by notebook
Subscribe to Reminders in Shared and Business Notebooks

Other improvements

Improved copy/paste in note view
Corrected photo order in multi-shot camera
Improved shortcuts functionality
Improved Japanese support
Chrome Beta (fixes):
247034: Dangerous download infobar is shown for almost every download
244052: PDF file isn't downloading with Flywheel enabled
178893: Multiple new tabs links displayed in tab history when tapping on NTP tabs
Falcon Pro:
 NEW : Multi Account Support
NEW : Flat design UI
NEW : Black Theme
NEW : Option to Swipe between columns (Android 3+)
NEW : Transition animations (Android 3+)
Bugfixes and improvements
DashClock:
NEW! Translations for Greek, Dutch and Brazilian Portuguese
Calendar extension now shows the current appointment if it started in the past 5 minutes
Fixed a few issues related to all-day events
Fixed a couple crashes
Play Links:  Evernote | Chrome Beta | Falcon Pro | DashClock
______________________
Some of our best videos.