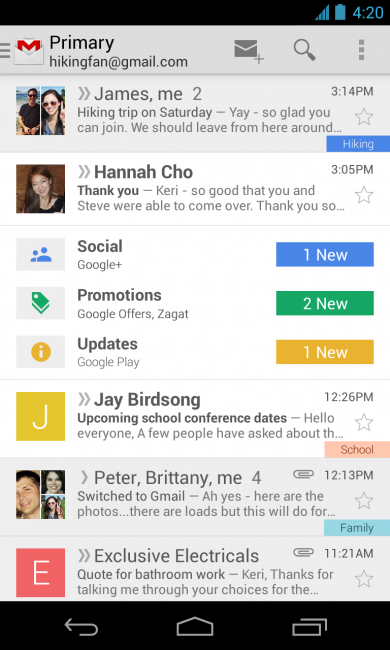 The rumors from last week were true, a new Gmail has arrived this morning for both Android and iOS, along with a new inbox experience for the web. The new inbox could feature categories for Primary, Social, Promotions, Updates, and Forums, but it appears as if you can choose which categories you want to utilize. As Google explains it, "Your inbox is organized in a way that lets you see what's new at a glance and decide which emails you want to read when." 
In the mobile apps for Android and iOS, you'll see your primary email upon opening the app, but can easy swipe from the left (new navigation bar) to access addition categories.
The new inbox is rolling out gradually to the web, Android, and iOS over the next few weeks. We wouldn't be surprised to see the apps come out much sooner though.
Here is what the Android version will look like:
Via:  Gmail Blog