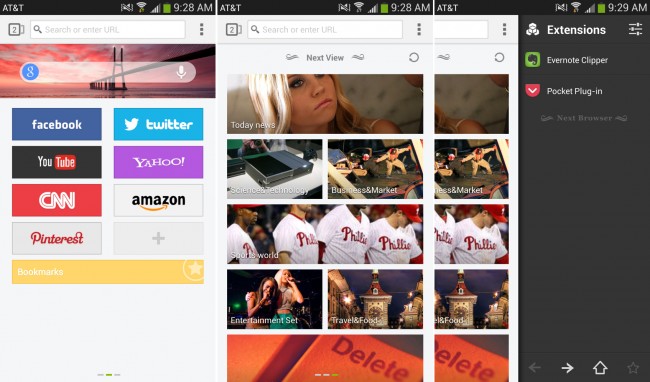 The GO Launcher development team is at it again, bringing yet another application to Google Play. This time, it's Next Browser, a browser that could compete with Google's Chrome and the stock browser application found on most Android devices. The GO Launcher team are the ones responsible for the very popular GO Launcher, as well as GO Locker, a popular 3rd party option for lockscreen lovers, so you have to have some faith that they know what folks would want in a browser. 
Some of the features that make Next Browser stand out in a crowd are Speed Dial (a pretty bookmarks page that appears upon launching the app), Easy Search (the fancy Google Search bar), extensions for apps such as Evernote and Pocket, plus other custom GO Dev features like Next Voice and Next View.
While the browser does appear quite nice, the lack of a few features would probably turn some of you away. There is no full integration with your Google account, so saved passwords and things of that nature will not appear. Although, it does allow for the syncing of bookmarks. If you aren't completely attached to your Google account, it could be worth the look. To check out Next Browser in action, watch the video below.
Play Link