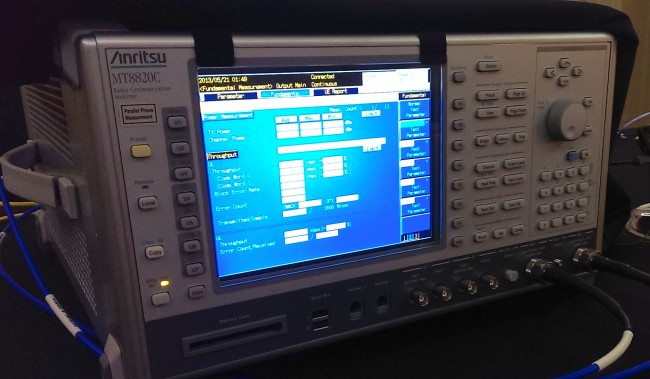 Taking place in Las Vegas this week is CTIA, another annual mobile/tech industry conference much like CES that takes place in January. Some well-known names are attending this year's meetup, companies such as HTC, NVIDIA, LG and Verizon are all in attendance. Demoing their Tegra 4i processor with built in i500 LTE modem is Santa Clara's NVIDIA, showing the industry that thanks to an update, their chip is capable of flying through large amounts of data in no time at all. 
Using Phoenix, their reference device for manufacturers, the Tegra 4i was able to pull through 150Mbps, an extra 50% boost in speed over their previous speed tests that took place at MWC in February. The gain in speed is thanks to a simple modem software update, no new hardware and not a new chip. Using the above pictured emulator, since no LTE Cat 4 networks currently exist locally, the Tegra 4i was able to demonstrate what would happen in the perfect world test – LTE Advanced speeds.
To close, NVIDIA also showed the chipset demonstrating video and audio playback on AT&T's 4G LTE network. Sort of makes it exciting for when this chip will be placed inside of an actual retail device.
Via: NVIDIA