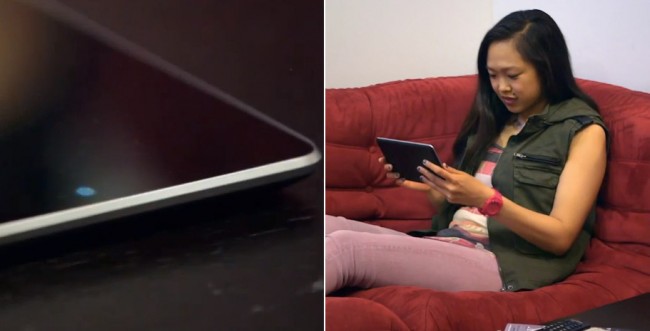 It's probably safe to say that we were all a little disappointed when yesterday's 3-hour keynote finished at Google I/O without an announcement for a new Nexus 7 tablet. Rumors have circulated for months, suggesting that I/O could be the time for Google to show us a retooled model with a higher-resolution display and new Qualcomm processor. But again, we left the show yesterday without one. Is there a chance that we saw the oft-rumored follow-up in a promo video for Hangouts, though? 
Google played a quick clip during their announcement of Hangouts that featured a handful of Google products, including a Nexus 4, Chromebook Pixel, and what appears to be some sort of Nexus 7 variant. We've captured the two sightings of the tablet in question in the image above, so that you can decide for yourself. Is this the new Nexus 7?
As you can see from the image on the left, there is a notification light telling the girl that she has a new Hangout to join. And as you all know, the Nexus 7 doesn't have a notification light. Also, the silver-ish rim around the edge of the device certainly looks identical to that of the current Nexus 7. Interesting, right? So is this it?
Eh, I wouldn't go that far. This entire promo clip is filled with minor issues like the male lead using his Nexus 4 upside down and having Advanced Task Killer installed on his device. His N4 is also running what appears to be Ice Cream Sandwich, since it has the old camera icon and stock Android browser instead of Chrome.
For all we know, this blinking light on the Nexus 7 could be an effect that the marketing company was trying to achieve when putting together the clip. It could be a new Nexus 7, but I wouldn't bet the world on that idea.
Via:  reddit
Cheers Tyler!