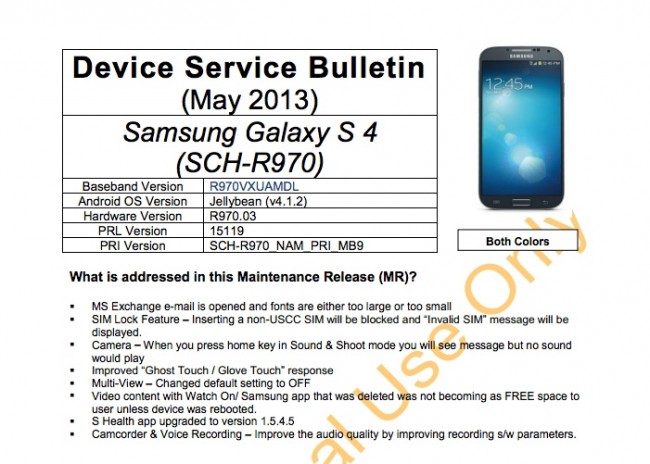 After updates for the AT&T, T-Mobile, and Sprint variants of the Samsung Galaxy S4 started pushing out over the last couple of days, US Cellular has decided to join the party. In the update that is scheduled for this month (around May 10), phones will jump to build number R970VXUAMDL. The update also includes a SIM lock, improved "ghost" touch, a camera fix, new version of the S Health app, and improved audio quality when recording video. The full changelog can be found below.
One thing we are certainly confused about, is the fact that this document says the update will be Android 4.1.2. Unless I'm mistaken, all Galaxy S4 models (including this one) should have launched with 4.2.2, so that must be a type-o. 
MS Exchange e-mail is opened and fonts are either too large or too small
SIM Lock Feature – Inserting a non-USCC SIM will be blocked and "Invalid SIM" message will be displayed
Camera – When you press home key in Sound & Shoot mode you will see message but no sound would play
Improved "Ghost Touch / Glove Touch" response
Multi-View – Changed default setting to OFF
Video content with Watch On/ Samsung app that was deleted was not becoming as FREE space to user unless device was rebooted.
S Health app upgraded to version 1.5.4.5
Camcorder & Voice Recording – Improve the audio quality by improving recording s/w parameters
The update can be downloaded by going into Settings >> About Phone >> Software Update.