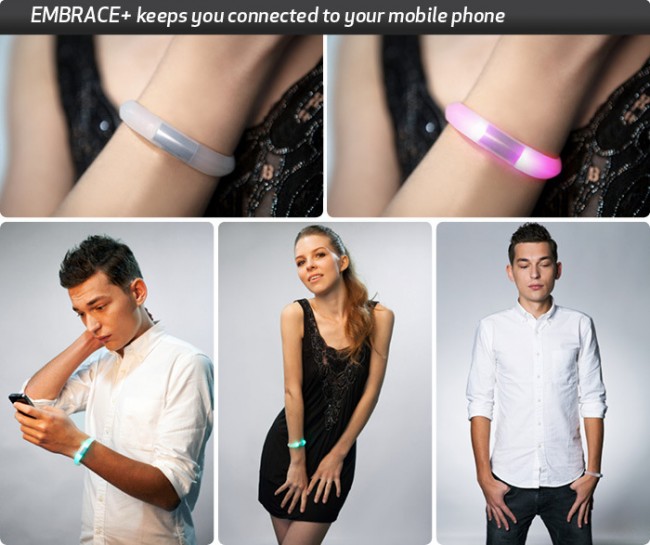 "Wait, teal green notification!" – grabs neck and begins to perspire, "only 150 likes on my newest head-cocked-to-the-side, shirtless Instagram post? Something is wrong here," mumbles the young teenager. "It's OK," replies Tiffany, "I'll get my L4L brigade on it in 30 seconds, but I have to pee like nobody's business." The young teenager then thinks to himself as he closes his eyes, and drops thumbs-only into his jeans,"Zen-mode time, baby. Life couldn't be more peaceful now that my wrist is blinking in neon colors and Tiffany has cleared her bladder. #teambreezy"  The story of two EMBRACE+ customers, in love. The end. 
Ready for a world filled with glowstick-esque blinking notifications? EMBRACE+ wants you to be. This product is a re-launch of a previously failed attempt at bringing wrist notifications to the mainstream. As you can see from the pictures above, and an excerpt from the next great novel, you'll soon be able to set up calls, texts, Facebook messages, Instagram pings, and other notifications to appear in any shade of color through a Nike Fuelband type of rubber wrist accessory.
The EMBRACE+ works with both Android and iOS, lasts for up to 10 days on a single charge, is fully waterproof, and can be yours for just $50.
Look, this thing is just plain silly, if you ask me. But hey, clearly there is some sort of a market for it, as it already has more than 1,800 backers in around 10 days. I'm just not so sure I'm ready for a world where completely intrusive blinking lights are flooding my conversations, meals, and meetings. Then again, Google Glass is out there too.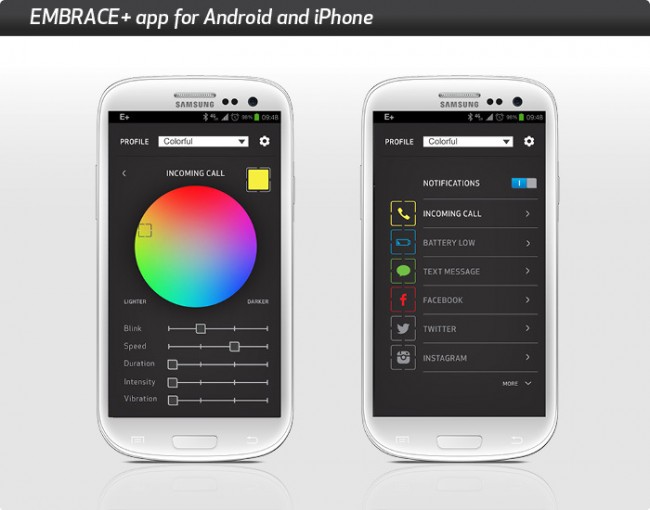 Here is the promo video describing the experience: