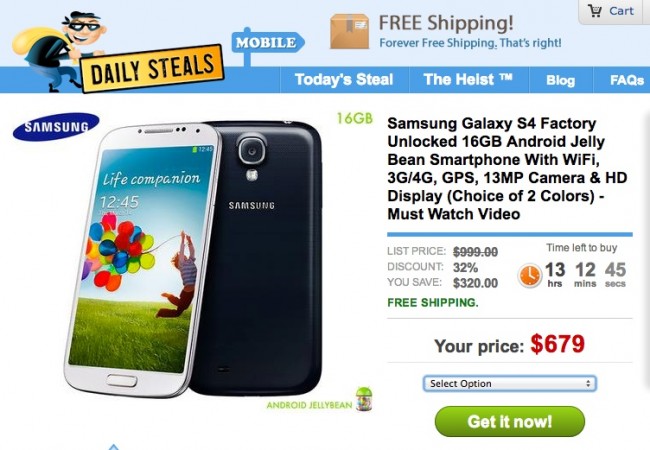 The Samsung Galaxy S4 is up on Daily Steals this morning for a pretty decent price of $679. This would be the unlocked GT-I9500 model, which also means Exynos Octa processor. As many of you know, the Octa processor is not included in the U.S. retail model that ships to carriers, so this is somewhat of special event. At $679, you may be thinking that the phone is ridiculously high-priced, but unlocked phone re-sellers like Negri or Expansys are selling this phone for close to $750 and beyond. 
This model also comes with 16GB of internal storage, 13MP camera, and Android 4.2.2. You can choose from either the white or black versions of the phone.
Free shipping is a part of the deal.
On a related note, the specs list out that this phone has LTE that is "market dependent," but to my knowledge, it won't work on any of the LTE markets in the U.S. In fact, this model (I9500) may not even have LTE at all. The I9505 is apparently the LTE version with the Octa processor. You will be able to jump on AT&T's HSPA+ network, though.
Via:  Daily Steals
Cheers Clint!