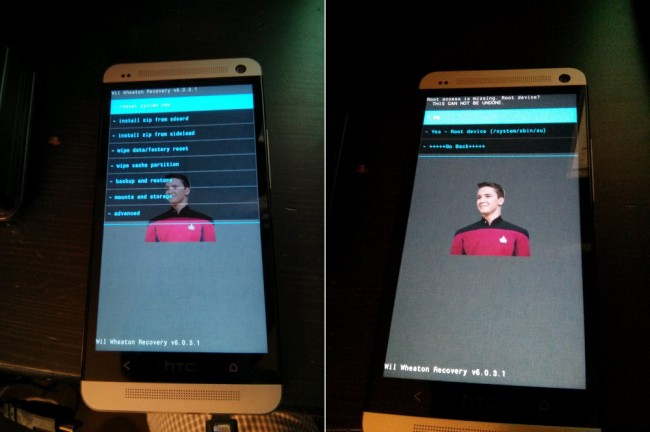 Last night, Wil Wheaton broadcast to the world through Google+ that he was struggling to fully root his HTC One. He was able to unlock the bootloader (likely through HTCDev), but them found the entire process of putting a recovery or rooting it to be quite difficult. He eventually gave up, leaving for the night after five hours of work with some parting words about how much he loves his "GNEX" and despises the UI of the One. So what happened after he ran off to bed? Koush came to the rescue. 
With the release of Wil Wheaton Recovery, anyone (including Wil) can root the AT&T or T-Mobile versions of the HTC One. All you need to do to get the process going is to flash this new Wil Wheaton recovery.img in fastboot, boot into the new recovery, and then reboot to Android from the new Wil Wheaton Recovery, where it will ask you to root the device. Tap "Yes" when prompted, and you will be rooted.
It doesn't look like Wil is awake yet, so we'll try to update this post with his much-anticipated response.
Via:  +Koush | +Wil Wheaton
Cheers Matt!