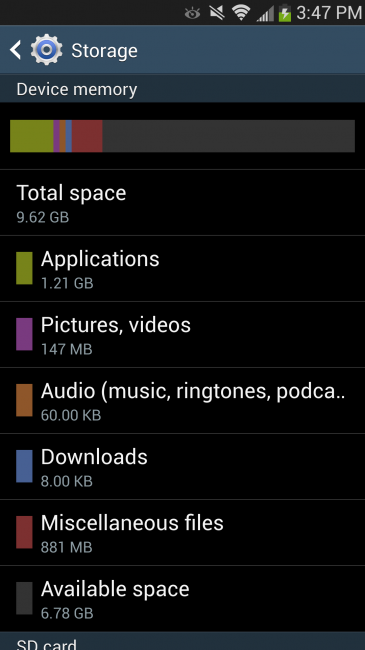 We have seen this story before. When folks would buy their 32GB iPods back in the day (I guess they still buy those things), you would see that the full amount of storage you purchased wouldn't be available, given the device's system takes up some of this space. So at the end of the day, buyers are getting a few gigs less than what is listed on the box. Depending on how many gigs you got, it wasn't that big of a deal, but what about when the system and bloatware take up almost half of a device's storage? Is that not crossing the line? 
As buyers are discovering, the smallest variant of the Galaxy S4 is a 16GB option, but once all is said and done, just 9GB is available for use – almost half of the device's storage. Now, this is somewhat understandable to a certain degree, given the GS4 comes packed with a ton of software features such as Air View and all of that cool camera software. But as we mentioned, how much is too much?
Yes, the Galaxy S4 does support expandable storage, but at this point a heavy user is basically forced to buy an SD card in order to maintain a large app library or keep lots of media on their device. For the prices people are paying, it's sort of a downer.
Via: Geek.com