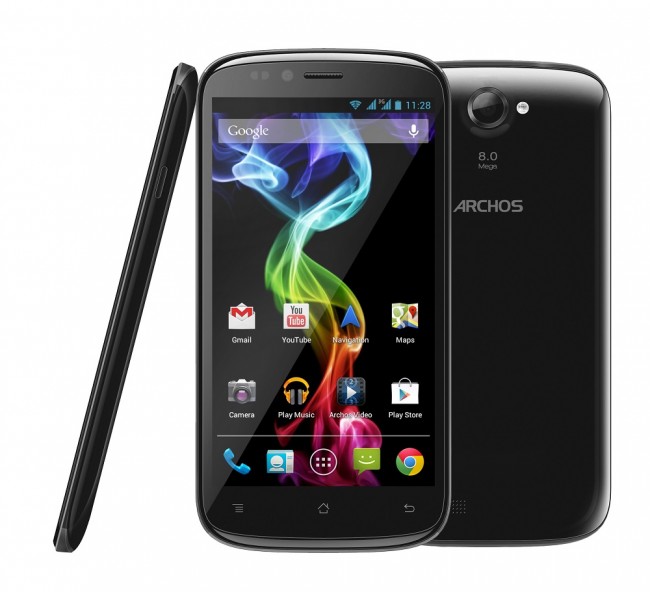 This morning, a new line of Android phones was announced from Archos, a company known for their GamePad and Platinum line of tablets. The line is called Platinum and contains three different phones – the 35 Carbon, the 50 Platinum, and the 53 Platinum. As mentioned in the title, the devices are priced at an extremely competitive rate, with the 3.5″ 35 Carbon starting at just $99. 
From there, the 5.0″ 50 Platinum will go on sale at $220, while the larger 5.3″ 53 Platinum is set at just $250. Each device is "Google certified," runs pure vanilla Android 4.1.2, sports an IPS display and supports Archos' cloud-based storage for contacts and files. Both the 50 Platinum and 53 Platinum contain quad-core Qualcomm processors, so it would appear Archos is stepping up their game in the specs department.
Unfortunately, these device will go on sale starting in Europe this May and we are currently awaiting word from the company if we can expect to see them go on sale here in America. My guess would be eventually, yes.
An unlocked phone of this caliber at an incredibly reasonable price? Anyone interested?
ARCHOS leverages years of Android tablet expertise to launch a smartphone range starting at $99 

New Platinum range will allow end-users to experience full access to the Android ecosystem, IPS screens, Quad-core CPUs and 8 Megapixel cameras in a sleek design

Denver, CO – April 18th, 2013 – ARCHOS, a pioneer in AndroidTM devices, is pleased to announce its first line of GoogleTM certified smartphones. Each smartphone will feature a super slim design, IPS screen with amazing viewing angles, a powerful Qualcomm CPU and the flexibility of dual SIM cards which allow the user to manage two providers simultaneously.

The ARCHOS 35 Carbon ($99.99), ARCHOS 50 Platinum ($219.99) and ARCHOS 53 Platinum ($249.99) will be the first in a new line of smartphones to be released and will be available starting in Europe at the end of May 2013.

"The smartphone market is shifting, as SIM-free sales versus subsidized sales are increasing, and ARCHOS is prepared to respond, as we can offer retail channels affordable, unlocked and feature-rich smartphones without the need to subsidize," says Loïc Poirier, CEO of ARCHOS. "Furthermore smartphones and tablets are interrelated markets that have quickly crossed over with the arrival of "phablets" – half-phone, half-tablet devices. It only makes sense that this should be our next phase of products as this would be a natural fit for our brand and long term growth."

Ranging from 3.5" to 5.3" in size, the first three smartphones to be released in Q2 will include a range of features, connectivity, CPU's and storage. The flagship device, the ARCHOS 50 Platinum, features a stunning 5.0 inch full black IPS display paired with a quad-core CPU at 1.2GHz and 8 M Pixels camera. End-users will have an experience similar to a Samsung Galaxy S3 for half the price.

In addition, all smartphones in this new line will include:

Pure un-skinned Android OS
Google Certification for access to Google PlayTM and Google Mobile Services including Google NowTM
Dual SIM flexibility to manage two providers simultaneously from one phone
An IPS Screen with amazing viewing angles
Full Black Screen Process
ARCHOS Media Centre Apps for music and videos
Cloud-Based Contacts and Storage
Front and Back Cameras for capturing the perfect picture

For full Smartphone technical specifications please visit:

50Platinum: www.archos.com/products/smartphones/platinum/archos_50platinum/index.html

53Platinum : www.archos.com/products/smartphones/platinum/archos_53platinum/index.html

35Carbon : www.archos.com/products/smartphones/carbon/archos_35carbon/index.html

For more information about ARCHOS products visit www.ARCHOS.com.