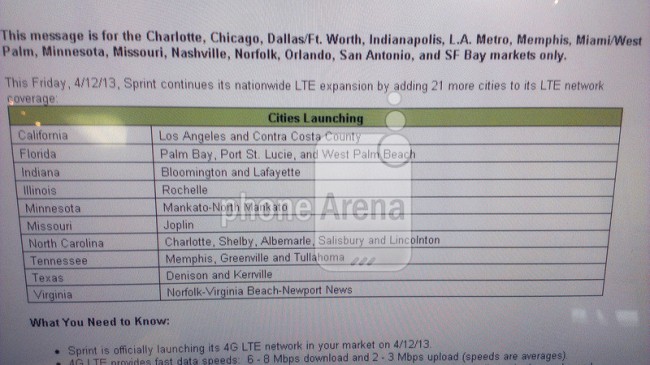 According to a recently leaked internal document, Sprint plans to light up a nice list of 4G LTE markets here in the U.S. on April 12. A total of 21 markets will have their switches flipped, bringing their grand total of active 4G markets to nearly 100 now. 
Below we have neatly listed out each city that should receive the green light sometime tomorrow.
New Markets:
Los Angeles and Contra Costa County, CA
Palm Bay, FL
Port St. Lucie, FL
West Palm Beach, FL
Bloomington, IN
Lafayette, IN
Rochelle, IL
Mankato, MN
Joplin, MS
Charlotte, NC
Shelby, NC
Albermarie, NC
Salisbury, NC
Lincolnton, NC
Memphis, TN
Greenville, TN
Tullahoma, TN
Denison, TX
Kerrville, TX
Norfolk-Virginia Beach-Newport News, VA
Via: Phone Arena
______________________
Some of our best videos.