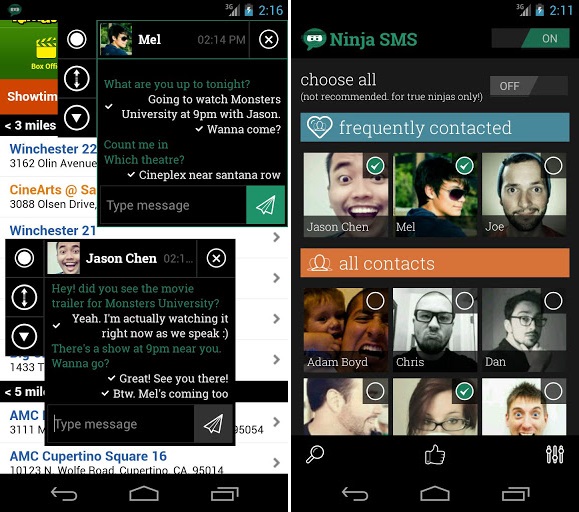 When I walked away from Facebook's press event last week, there was one thing I was truly excited for – Chat Heads. They allow for users to chat with friends over any application that is currently in use on your device. It removes the need to choose between a conversation with your friends and a game/movie/app you are using. In short, it's genius. 
Recently launched for Android is Ninja SMS. What this app does is pretty much like Chat Heads, except it isn't for instant messages, it's for text messages. When you get a text and are busy in an app, it pops up a box displaying the sender, the message and a few action buttons. With these buttons, you can select a lighter transparency so you can continue watching your YouTube video while conversing with your friends, minimize the chat into a single block with your friends picture for easy hiding and moving around your display, as well as going into full-screen mode for a full on chat experience.
I have been using it all morning and so far, I think I love it. My only issue is that of course, I use Google Voice, so my contact pictures don't show up at all since I forward my Voice texts to the stock messaging app to get Ninja SMS to work. Either way, if you text from your direct phone number and have contact pictures set, I think you will enjoy this app quite a bit.
It costs a single dollar on Google Play, but check out the promo video below to get a feel for what the app does.
Play Link ($0.99)