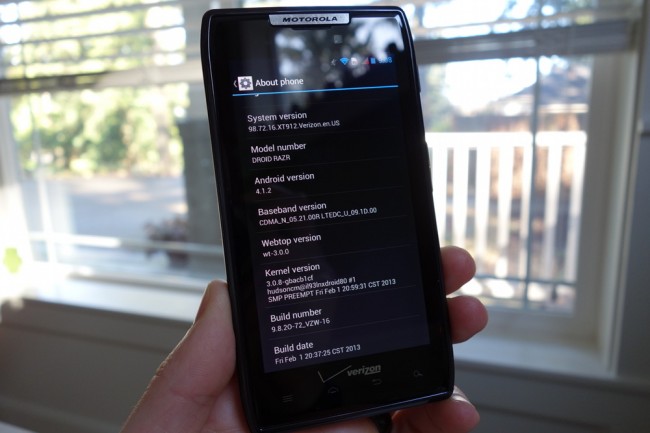 With the official Jelly Bean update for the original DROID RAZR and RAZR MAXX hitting testers, we have already seen the update file for those that were running the accidental X-mas build. To make sure that everyone is covered, here is the update file for those still running official Ice Cream Sandwich (6.16.211). This update will bring you to 98.72.16 and Android 4.1.2.
Here is the full changelog.
The file is big at 338MB, but that's expected when you see an update of this size. 
Instructions:
*For those running official Ice Cream Sandwich 6.16.211. 100% stock.

*If you are running the X-mas build, your instructions are here.
1.  Download and place this file on your external storage (SD card):
Blur_Version.6.16.211.XT912.Verizon.en.US.zip [mirror]
2.  Turn your phone off and boot into recovery.
*With phone off, hold down both Volume Down and Up plus Power until you get to the boot menu. Press Volume Down to highlight "Recovery." Press Volume Up to select it.

*Once you see the Android and exclamation point, press both Volume Up and Down at the same time.
3.  In recovery, choose "apply update from external storage."
*Highlight using Volume Down, select using Power.
4.  Find the 6.16.211 file that you downloaded above and select it.
5.  Watch the update install!
Via:  DroidRzr
Cheers darkmiasma!