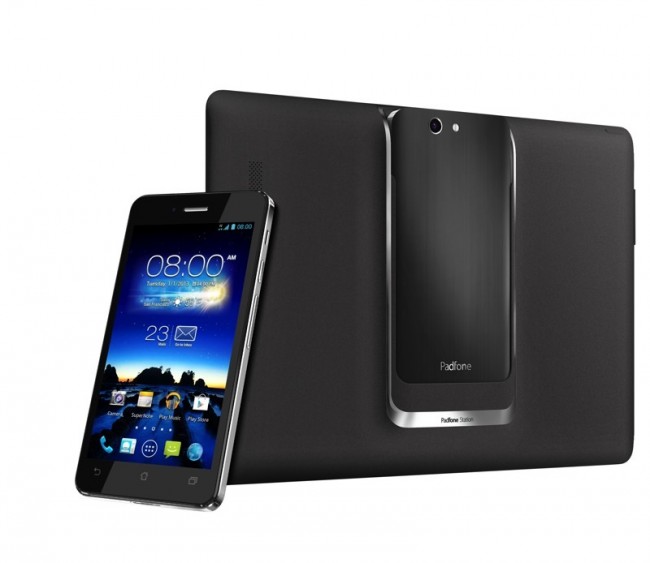 Asus is at it again with their phone-inside-of-a-tablet line of products called the Padfone. Announced this morning at Mobile World Congress, we have the brand new Padfone Infinity, a phone with a 5″ 1080p display, 1.7GHz Snapdragon 600 processor, 64GB storage, 13MP camera, LTE, and Android 4.2. But most importantly, it also docks into a tablet shell, just like its brothers and sisters did, to turn your phone into a 10.1″ tablet as an all-in-one type of device. 
The device, to me, doesn't seem a lot different than the Padfone 2 other than its 1080p display and upgraded processor. It still rocks LTE, docks gently into a shell, and likely will never come near a U.S. carrier.
The Padfone Infinity will go one sale in Taiwan in April, along with some other select countries in Q2. The U.S. is not mentioned at all, and that shouldn't surprise you. Neither of the previous Padfone devices made their way to our shores, because carriers here like to charge you to connect tablets to their network. They also sure as hell don't want you to tether for free (which is sort of what docking the device does) to a tablet and gobbling up data.
It's too bad really, because the concept of the Padfone is brilliant.
ASUS Announces Next-Generation PadFone™ Infinity

LTE smartphone with 5-inch Full HD display combines with a 10.1-inch tablet dock for seamless mobile flexibility

Mobile World Congress, Barcelona, Spain (25th February, 2013) —ASUS today announced PadFone™ Infinity, a powerful LTE smartphone with a sleek metallic design and a 5-inch Full HD display that becomes a 10.1-inch tablet when docked to its companion PadFone™ Infinity Station. PadFone™ Infinity features Android 4.2 and groundbreaking mobile performance, thanks to its next-generation Qualcomm® Snapdragon™ 600 quad-core processor and up to 19 hours of 3G talk time.

"PadFone™ Infinity is the latest evolution of our PadFone™ line," said Jonney Shih, ASUS Chairman. "It combines incredible design with an uncompromised user experience derived from our Design Thinking philosophy."

Premium design with premium performance

With slender unibody design crafted from aerospace-grade aluminum, ASUS PadFone™ Infinity is beautiful and durable. 64GB of storage complements the class-leading Qualcomm® Snapdragon™ 600 1.7GHz quad-core processor for a smooth and responsive premium Android experience, while 100Mbit/s LTE and 42Mbit/s DC-HSPA+ ensure super-fast web browsing and downloads.

ASUS PadFone™ Infinity features a high-performance 13-megapixel camera with an f/2.0 five-element lens that captures incredibly detailed images with no shutter lag. A dedicated image signal-processor enhances low-light image quality and enables PadFone™ Infinity to capture up to 100 sequential photos at 8 frames-per-second, while simultaneously recording 1080p Full HD video. PadFone™ Infinity can also output 1080p Full HD video via its Micro-USB-compatible MyDP interface.

Share apps and mobile data instantly

The unique two-in-one nature of ASUS PadFone™ removes the tedious need to synchronize data between smartphone and tablet. Data and settings on PadFone™ Infinity are available instantly on PadFone™ Infinity Station upon docking, and running apps are smoothly reformatted to fit the larger display. Mobile data bills are also reduced, since a single data plan can be shared between both devices.

PadFone™ Infinity comes with new and exclusive ASUS apps, including SuperNote 3.1 for note taking, Story for creating stunning photo albums and ASUS Echo for voice control of PadFone™ Infinity.

ASUS PadFone™ Infinity has up to 19 hours of 3G talk time, increased to up to 40 hours when docked into PadFone™ Infinity Station. PadFone™ Infinity Station also has sufficient battery capacity to fully recharge the docked PadFone™ Infinity up to three times.

AVAILABILITY & PRICING

ASUS PadFone™ Infinity will be available in Taiwan from April and selected other countries from early Q2 2013. The combined price of PadFone Infinity 64GB and PadFone Infinity Station is €999 (MSRP). Exact pricing and specifications will vary by market. Please confirm full pricing and availability with your local ASUS representative.

WHERE TO FIND ASUS AT MWC

Location: ASUS MWC Product Showroom
ASUS Business Suite, Hall 2, 2C70,
Fira Gran Via
Av. Joan Carles I, 64 08908
L'Hospitalet de Llobregat,
Barcelona, Spain

Opening hours: 25th February, 3pm to 7pm
26th to 27th February, 7.30am to 7pm
28th February, 7.30am to 4pm

###

ASUS is a worldwide top-three consumer notebook vendor and maker of the world's best-selling, most award-winning, motherboards. A leading enterprise in the new digital era, ASUS designs and manufactures products that perfectly meet the needs of today's digital home and office, with a broad portfolio that includes motherboards, graphics cards, optical drives, displays, desktop and all-in-one PCs, notebooks, netbooks, servers, multimedia devices, wireless solutions, networking devices, tablets and smartphones. Driven by innovation and committed to quality, ASUS won 4,168 awards in 2012 and is widely credited with revolutionizing the PC industry with its Eee PC™. ASUS has more than 12,500 employees around the globe with a world-class R&D team of 3,800 engineers. Company revenue for 2011 was approximately US$11.9 billion.