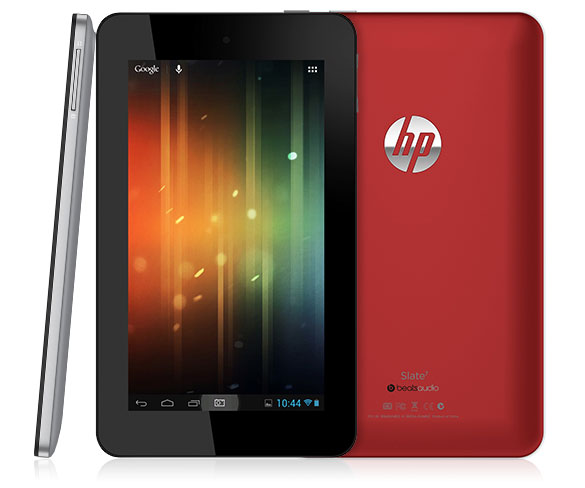 In Barcelona, at Mobile World Congress, HP just unveiled their first ever Android tablet, the Slate 7. The device carries a 7″ display, has access to Google Play and the rest of Google's suite of apps, weighs 13 ounces, utilizes Beats audio, is powered by a 1.6GHz dual-core processor, 3MP rear camera, VGA front camera, runs Android 4.1, and drops in at a ridiculously low price of $169.
The device will be available in April of this year. 
HP Unveils Android Consumer Tablet

BARCELONA, Spain, Feb. 24, 2013 — HP today announced the HP Slate7, an affordable Android Jelly Bean consumer tablet that provides customers with easy access to Google Mobile services.

With a 7-inch diagonal screen and weighing 13 ounces, the HP Slate7 is an ideal trusted personal companion, featuring a stainless-steel frame and soft black paint in gray or red on the back. It also is the industry's first tablet to offer embedded Beats Audio, for the best-sounding, richest audio experience available on a tablet.

The HP Slate7 delivers the Google experience with services like Google Now, Google Search, Gmail, YouTube, Google Drive and Google+ Hangouts for multiperson video chat as well as access to apps and digital content through Google Play.(1)

"To address the growing interest in tablets among consumers and businesses alike, HP will offer a range of form factors and leverage an array of operating systems," said Alberto Torres, senior vice president, Mobility Global Business Unit, HP. "Our new HP Slate7 on Android represents a compelling entry point for consumer tablets, while our ground-breaking, business-ready HP ElitePad on Windows® 8 is ideal for enterprises and governments. Both deliver the service and support people expect from HP."

The HP Slate7 joins the recently introduced HP Chromebook as part of HP's push to offer access to the Google experience.

HP's tablet offerings reside in the company's newly formed Mobility Global Business Unit, established in September 2012 with the hiring of Torres. Torres joined HP from Nokia, where he was executive vice president and oversaw the MeeGo products and platform.

HP Slate7 makes computing easy while on the go

Powered by an ARM Dual Core Cortex-A9 1.6 GHz processor, the HP Slate7 is fast and responsive. Integrated wireless allows customers to access email, the internet and key applications, while the High-aperture-ratio Field Fringe Switching (HFFS) panel offers wide viewing angles that provide easy viewing of documents, games, photos and videos—even in outdoor lighting conditions.

The HP Slate7 includes a 3-megapixel camera on the back and a VGA camera on the front for chatting, videos and photos.

With the HP ePrint (2) application, customers can easily print while at home or on the go, and the exclusive native printing capability enables customers to print directly from most applications. A micro USB port allows customers to easily transfer files, and a suite of applications from HP spans exclusive games to productivity tools.

HP will provide an array of simple and easy-to-access support tools and resources to help customers take full advantage of all of the features the HP Slate7 has to offer. In addition to extensive phone and online support offerings included with the HP Slate7, HP is offering customers the opportunity to add to the standard product limited warranty with its HP Care Pack services. HP Slate7 customers will have the option to protect their investment with a two-year HP Care Pack for $29 or a two-year HP Care Pack with Accidental Damage Protection (ADP) for $49.(3)

Pricing and availability

The HP Slate7 is expected to be available in the United States in April with a starting price of $169.

Additional information about the HP Slate7 is available at www.hp.com/slate and The Next Bench.