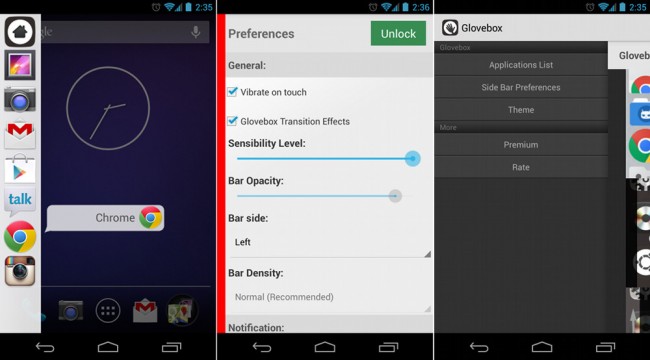 Our Ubuntu-related coverage continues on today with an app called Glovebox. The app acts exactly like the side-pinned app launcher in the latest developer build of Ubuntu that Tim took a look at earlier, only this is obviously for Android devices. Once installed, with a simple swipe from the left (or right depending on how you have it setup), you can access your favorite apps, widgets, tasks, and shortcuts from anywhere. It's a brilliant little app. 
While we have seen apps like this in a variety of forms, this appears to carry all sorts of potential. In the future, the developer plans to support custom icon packs, so that even your Glovebox can match your overall theme. For now, though, you can change between a handful of themes and tweak settings like opacity and density.
In the free version, you are allowed to add up to 8 of your favorite apps. In the paid version, which comes close to $4, you can add widgets, more apps, and all of the other goodies you'll see listed in the settings menu. I'd suggest that you play around with the free version for a bit before deciding whether or not to fork out that kind of cash.
*Note – Also, I should point out that the current build is leaving some devices with an unresponsive screen after using the app for a bit. A simple reboot fixes the issue temporarily, but we're waiting for a permanent fix from the dev. He has told me that this fix is a "priority" and he is hoping to have it out within the next few days.
Cheers vonny571!