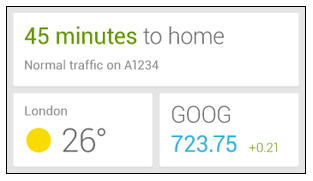 When you think of missing features for Google Now that you wish to see included in the future, was widget one of them? Your prayers may be answered shortly, as a widget was spotted through a Google support page (has since been pulled). Little other details were given or are known, however, the idea isn't a difficult one to understand. Google Now is great at giving you information before you realize you need it, but it can usually only be accessed through a swipe up from a home button or long-press on one of the many navigation button configurations that Android phones utilize. 
In the image above, you can see three sections for traffic, weather, and stocks, though those may change depending on what Now decides to offer. We have no idea if you'll be able to customize each or if Now will reconfigure the widget based on what it deems to be most important. The styling, obviously matches up to other Google Now cards.
We don't know when we'll see this widget, but I would put money on it coming via Google Play update for Google Search. With a support page live momentarily, I can't imagine this little bugger is far off.
Via:  Google Support | Android Central
Cheers Logan and David!