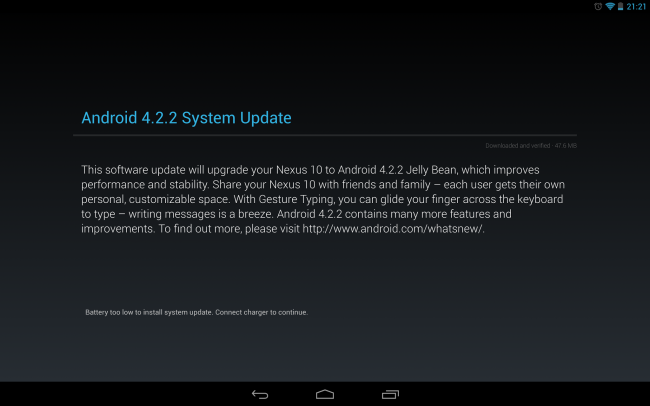 And after the Nexus 7 comes the Nexus 10 Android 4.2.2 (JDQ39) update.
Just like with the N7's update, you'll need to be on stock JOP40D in order to flash this file. 
Instructions (Toolkit/Custom Recovery):
1.  Download the above file to the root of your device's storage.
2.  To make this process extremely easy, download the Nexus 10 Toolkit.
Once the Toolkit is installed on your PC, make sure the N10 drivers are installed. You can download and install them all through the Toolkit.
3.  Turn off your device.
4.  Hold down both the volume buttons and then the power button. This will reboot you into fastboot mode.
5.  In the toolkit, select the option to reboot into a custom recovery, but without permanently flashing it.
6.  Choose either ClockworkMod Recovery or TeamWin, both work just fine.
7.  Your device will reboot into custom recovery and from here, install the OTA zip file.
8.  Once done, reboot and you are finished.
Cheers G.O.D.!