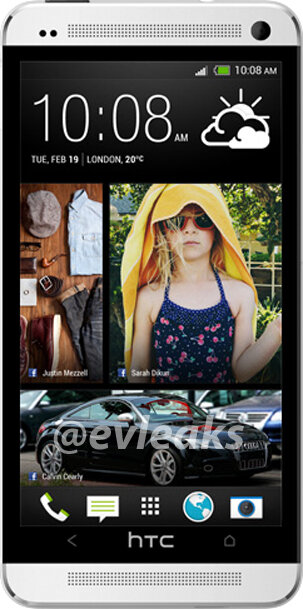 The man behind the @evleaks Twitter account has made a name for finding good information and leaks before they become official. After last week's information that the HTC M7 would come to market simply named the HTC One, he follows up today with a purported press render of the device, which looks similar to a render we have seen before. 
The two renders look almost identical, but when we first saw the previous image it didn't look like something that HTC would have up their sleeve. This latest mockup features HTC's Sense included and comes somewhat closer to what HTC would have it end up looking like. Many readers were unimpressed with the design, saying it looked a lot like the iPhone 5, but now we see this same design popping up again. Could this be what the HTC One will actually look like?
A couple of things have us slightly worried. First, we called the previous render the "iPhone 5" because of its top and bottom panels. Yes, the new render above still looks exactly like the backside of an iPhone 5, only with a display along for the ride. Second, what's with the button arrangements? There is a back, home (on the far right, which is odd) and random "HTC" button in the middle? Is that a new multi-tasking button? And did HTC really have to put February 19 in the date of the clock, just because that's the date we expect to see this phone unveiled?
Also, this looks nothing like the actual hardware of a device said to be the M7 (HTC One) that was pictured a few weeks back.
We only have to wait another week until we expect HTC will formally announce this device, is anyone interested in this design if we see it on Verizon? Are you as confused as we are?
Via:  @evleaks