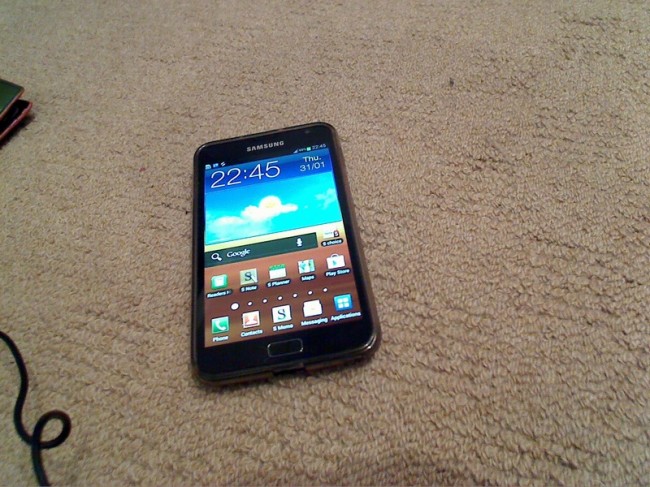 Thanks to the internet, that seems to always win the day, I just spent far too long in one of the most hilarious and entertaining forum threads of all time over at Overclockers. The story goes something like this – man has Android phone stolen, thankfully has Cerberus Security installed, proceeds to snap photos/video/audio recordings of the thief, informs police multiple times, police eventually arrive at thief's house a day later, knock on door, thief hides, they enter, find phone, and return it to owner. But what's so brilliant about the entire situation, is the 60+ page forum thread that goes along with it. 
Thanks to Cerberus and forum members who provided ample tips, the victim in this situation was able to snap photos of the thief, whom was eventually dubbed "Moley" thanks to his stand-out mole situation. There are videos of him having conversations with friends, jokes about his pink wallpaper, records of his phone number and SIM swapping, and the eventual police door breakdown. Well, we're not sure it included a door kick-in, but the play-by-play of the events going down up until the arrest are so worth your time.
At one point (towards page 37), the police arrived to the thief's house who then turned all of his lights off and seemed to hide. They eventually got in, had trouble locating the phone, but did find it. The victim here actually snapped more photos at this point, some of the police to prove this wasn't a massive internet troll job.
At this point in the thread, the members of Overclockers have figured out all there is to know about "Moley" and are now meme-ing photos from his life. It's frickin' hilarious.
In the end, the phone was returned (pictured above) and the thief was let off with a "caution" because he had some BS story to tell the cops. It may not seem like much, but trust me, you will laugh more times than you can count if you spend 15 minutes cruising through some of this saga.
Oh, you should probably think about installing a security app at some point to. You never know when it might help you create internet gold.
Via:  Overclockers | reddit