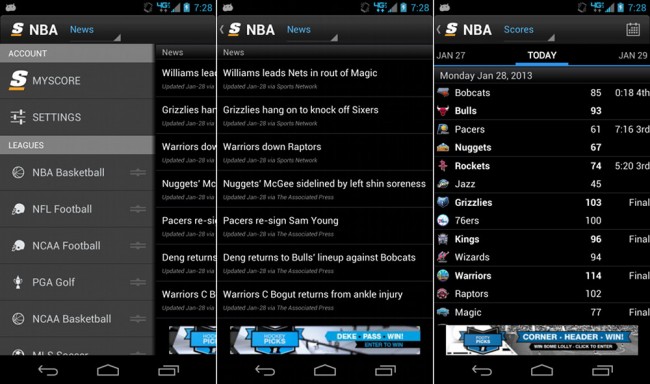 One of the most popular sports apps on mobile, Score Mobile, received a major update this evening which included an entirely new UI and a new name. The new app is called theScore, however, the same great features you have always enjoyed, along with the logo, remain the same. On an app front, this new version has definitely been built with some of the newest Android theme guidelines, making the user experience a joy as long as you understand that it takes swiping from page to page or panel to panel in order to get to different sections. 
You'll also find a new "MyScore" area that gives you all of your teams' scores and players in one spot. There are player card profiles with in-depth research, photos, stats, and fantasy news. But again, the big thing here is the new UI, which I suggest you take a few minutes to navigate around until you are used to it.
Here is the full changelog:
A completely re-designed and updated experience is here
MyScore Area: to follow all of your scores, teams and players.
Player Card Profiles: In-depth research with player photos, stats and fantasy news
New name: theScore was formerly ScoreMobile, even the logo is the same. Same scores, news, and stats.
Social sharing screenshots
Update:  TheScore reached out to us because they are hearing concerns over the new widget. They wanted to point out that they are working on a widget that is similar to the previous version:
One of the biggest concerns for our users has been the change to the widget. We wanted to let you know that we are currently working on an update to add an additional widget with similar functionality to the previous version with more scores from your favorite leagues in addition to the current widget which has scores only for your favorited teams' scores in the widget.
I should probably point out that the app is having issues on some phones. For example, it simply force closes on my Nexus 4.
Cheers Shane!