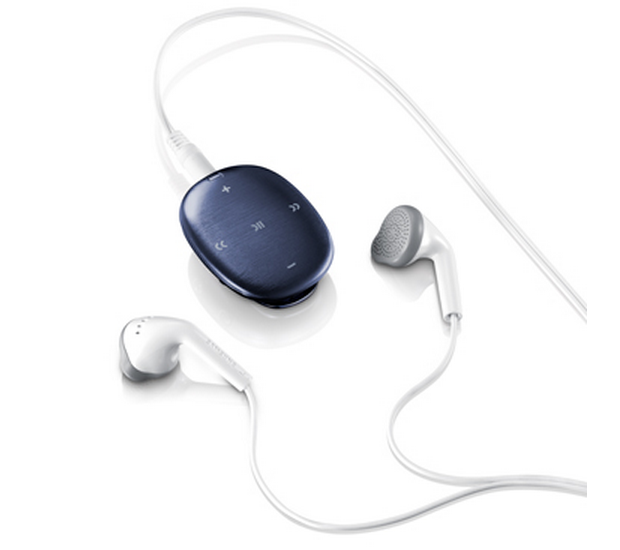 Today, Samsung is launching the Galaxy Muse, a 4GB MP3 player that pairs up your with Galaxy S3 or Note 2, syncs music, then allows you to leave your phone behind as you go for a jog. For easy syncing, Samsung released an application that allows for connection between the devices, so you can just take your phone's music and throw it on the Muse, which saves you from hooking it up to a PC. Thank God. 
It comes in both the pebble blue and white colors for perfect matching to your device for just $50. It's a neat little device and can be purchased straight from the Samsung website.
Interested?
SAMSUNG MOBILE LAUNCHES GALAXY MUSE – PORTABLE AND POWERFUL MUSIC ACCESSORY
New device expands Galaxy sharing capabilities with music management directly from a smartphone
DALLAS — December 7, 2012 — Samsung Telecommunications America, LLC (Samsung Mobile) – the No.1 mobile phone provider in the United States and a subsidiary of Samsung Electronics Co., Ltd., the No. 1 smartphone provider worldwide1 – is giving Galaxy™ smartphone users in the United States an amazing new way to enjoy music on the go called Galaxy Muse™. Coupled with the Muse Sync Android™ app, Samsung is providing Galaxy S® III and Galaxy Note® II owners an innovative new way of syncing music that frees them from their PC2.
Galaxy Muse is a small, lightweight MP3 player that shares several physical features and design aesthetics with the latest Galaxy smartphones, including a rounded, natural design and matching Pebble Blue and Marble White color scheme. In addition, Galaxy Muse provides users up to six hours of play time, 4 GB of memory, and rich, spacious sound quality thanks to Samsung SoundAlive® optimized audio technology. With SoundAlive, users notice deeper bass and enhanced tone when listening to their favorite songs, as SoundAlive intelligently adjusts sound quality and clarity.
Users can get their music on the Galaxy Muse by simply downloading the Muse Sync app from the Google Play™ marketplace or Samsung Apps. After connecting Galaxy Muse to the Galaxy S III or Galaxy Note II via the included connector cable (USB to 3.5mm headset jack), users can sync the songs they want and leave their phone behind. Due to its wearable design and small form factor, users can take Muse along in place of their smartphone as a portable music player at the gym or on the go. Galaxy Muse also comes equipped with a durable, built-in clip for attaching the device to a shirt or pocket, so it's wearable and offers the convenience of hands-free listening. Within this compact and clean design, Muse offers enough capacitive controls to become a user's primary music player. Skip, shuffle, pause, or go back and listen to your favorite song again and again.
"The Galaxy Muse expands the Samsung Galaxy product portfolio to offer music on-the-go in a compact and lightweight player, with songs shared directly from our award-winning smartphones," said Kevin Packingham, chief product officer at Samsung Mobile. "Muse is the latest example of Samsung delivering another outlet for content consumption across the entire spectrum of consumer electronics."
Galaxy Muse is available in Pebble Blue and MarbleWhite for $59.99 at Samsung.com. The Samsung Muse Sync mobile application is available free from Samsung Apps and the Google Play marketplace. For more information on Galaxy Muse, go to http://www.samsung.com/us/mobile/cell-phones-accessories/YP-W1NAL/STA.
Galaxy Muse Technical Specifications:
Audio Codec: MP3, WMA, FLAC, OGG
Dimensions: 1.7 x 1.25 x 0.5 inches
Weight: 13.8g
Play time: Up to 6 hours3
Storage: 4 GB
OS Requirements: Android™ 3.0 or higher
Muse Sync App downloadable via Google Play and Samsung Apps
Three switches: Mode (shuffle or continuous play), On/Off/SoundAlive, and Hold
Front volume controls
LED status indicator