When Samsung first introduced the original Galaxy Note, there were plenty of tech pundits that giggled, poked fun at the product, and then proceeded to make up as many ridiculous tablet-hybrid names as possible. Little did they know that Samsung had a new star on their hands, that would compliment the already massively successful Galaxy S series. So when the Galaxy Note 2 was announced, there were fewer jokes, as it was obvious that Samsung had carved out a special niche in the smartphone game.
In this review, I'll talk about its unique features that help set it apart from others. But most importantly, we still need to talk about the size, since that's still the deciding factor here. Is it too big or are you ready to buy into the super-sized phone market? 
The Good:
Specs:  The specs on the Galaxy Note 2 are second to none. The device has a quad-core Exynos processor clocked at 1.6GHz, 5.5″ HD Super AMOLED display, 2GB RAM, 16GB internal storage, microSD slot to expand the storage, 4G LTE (except on the T-Mobile version), 8MP rear camera, 1.9MP front camera, built-in S Pen, NFC, and a 3100mAh battery. If you were looking for "high-end" and "future proof," this is the phone that meets both requirements.
Display:  The 5.5″ HD Super AMOLED display on the Galaxy Note 2, at 276ppi, is gorgeous. G.O.R.G.E.O.U.S. It's no longer PenTile, is obviously massive, and produces vibrant colors in such clarity. It may have more of a cartoonish look than an LCD panel, but I don't care, it looks amazing. The panel seems to float towards the top of the display, so as you touch it, it sort of feels like you are actually touching it. Touch sensitivity is where you'd expect it to be as well, and with it being so big, almost anything you do seems like it is coming to life. And because we like to, here are a couple of macro shots of the display.
Performance:  Thanks to the quad-core processor and 2GB of RAM, there are few tasks (if any) that can slow the Note 2 down. In my couple of weeks with it, I don't know that I have even experienced more than a couple of stutters in the UI or while task switching. The processor and GPU combo handled all of the games I played, jumping between apps is buttery smooth, and all of the add-ons like Pop-up Play and Browser, run without hiccups. No benchmark scores needed here, this phone passes all of the tests with flying colors.
Device Tour and S Pen Features:  Since the Galaxy Note 2 is more than just a super-sized phone, I thought it was only proper if I put together a super-sized video tour of it. In the video below, I'll walk you through the outside, briefly talk hardware, and then dive fully into the software side of things. The S Pen and its new list of features are the star of the show on the Note 2, so take a look at this 19-minute video to soak almost all of it in.
New S Pen:  As mentioned a number of times in the video above, the S Pen on the Galaxy Note 2 has been greatly improved over its predecessor. It has this slick hovering feature called AirView that acts as a mouse (pictured below), while also showing you previews in apps like email and gallery. You can use the S Pen to quickly screenshot items, draw around the specific parts you want, write a note, quickly access apps or tasks using gestures, and more. Samsung is doing things with the pen that I don't think any of us had imagined. It also feels like the sky is the limit here, and that S Pen features will only grow substantially over the next couple of years.
More Software Highlights:  Since that first 20-minute video of software highlights didn't cover it all, here is another short video. Again, the S Pen and new bundle of joy that Samsung including in TouchWiz for the Note 2 are impressive.
Jelly Bean:  We love it when phone manufacturers release phones running the most current version of Android. Since that's Jelly Bean (Android 4.1), for now, Samsung gets major props. Android 4.2 will be released to Nexus devices in the coming weeks, but for Samsung to already have a phone hitting stores with 4.1, you should be impressed. Motorola, who is owned by Google, just dropped the RAZR HD on us a couple of weeks ago and couldn't even get their phones updated to Jelly Bean before launch. As you know, Jelly Bean includes all sorts of enhancements like better notifications, Google Now, advanced Search, Project Butter for improved performance, and more.
Camera:  The 8MP camera in the Galaxy Note 2 is probably one of the better smartphone cameras that I have used to date. It's definitely up there with the Galaxy S3's camera, and rightfully so, as it's likely an identical sensor. It bests the camera in the RAZR HD by a mile. Pictures are far less noisy and washed out, the focus actually works, and the sheer number of camera features is sort of astounding. There are panorama modes, burst shots, facial recognition tech, sharing modes, filters, and more. Samsung takes its smartphone cameras seriously, something that is obvious with the Note 2.
(Samples are untouched, other than being resized a bit.)
Battery Life:  Battery life has been more-than-acceptable. I apologize for not having screenshots, but so far, the Note 2 has powered through each and every day that I have used it. Now, I should point out that the T-Mobile version doesn't have LTE, so my battery life tests aren't going to matter much at this time. Once I get a hold of the Verizon version with LTE, we'll revisit this subject. So far though, the 3100mAh of juice is plenty.
TouchWiz:  Ahh, TouchWiz. Your nature them and noises drive me nuts, but your feature set bests everyone else in the business. I love your buttery transitions, infinite scrolling loops, massive list of customizable features, gesture movements, S Pen add-ons, minor system tweaks (like quick toggles in the notification bar), and stability. But why do you have to put a damper on the situation with these damn water noises?
[nggallery id=21]
Keyboard:  I'm usually the ultimate stickler when it comes to OEM keyboards. In other words, I hate almost all of them. I'm a huge fan of the stock Android keyboard, as well as Swiftkey. But when reviewing phones, I usually try to use the OEM installed keyboard throughout my time, because not everyone knows about 3rd party keyboards and I feel like these need to be reviewed. To me, the keyboard is one of the most crucial pieces to a smartphone's OS, so I'm actually thrilled to admit that Samsung has done a fine job with their keyboard on the Note 2. It has gesture typing (similar to Swype) built-in, but it also holds up to rapid tapping much better than others. In an added bonus, since the phone is so big, they were able to include a dedicated number row at the top, something I wish almost every keyboard had. I wish it were a little faster when long pressing to get to extra characters, but the rest of the pluses outweigh that one negative.
Gaming:  If you were looking for the ultimate portable gaming device, the Galaxy Note 2 may be it. With the massive display, it feels like you are holding a mini-gaming center in your hand. It sits between a tablet and normal smartphone in size, so it's still ultra-portable, but also big enough to change the gaming experience. With a quad-core processor, 2GB of RAM, a decent GPU, and one of the most gorgeous HD displays we've seen, the top HD games only get better on the Note 2.
The Not-so-Good:
Size:  Don't hate me for saying this, but when it comes to size, the Galaxy Note 2 is too big for my liking. Now, that doesn't mean that you won't love it and find the form factor optimal – I'm just saying that I prefer a regular sized smartphone. I found myself fumbling with the Note 2 far too often, as it really is a two-handed device. Making calls on it is a bit awkward because of the size, reaching anything with one hand is almost impossible without major hand placement adjustment, and unless you are carrying a bag or purse around, it may feel incredibly odd in your pocket. Again, just my opinion, many of yours may be very different.
Hardware Navigation Buttons:  It's almost 2013, a year ago Google introduced the first phone with on-screen navigation keys, in the Galaxy Nexus. As you all know, that phone is made by Samsung. For whatever reason, Samsung has decided that with their two flagship devices – Galaxy S3 and Note 2 – that they would not adopt the new Google standard and instead stick with hardware Menu, Home, and Back buttons. It drives me nuts. While these aren't adding bulk to the body as they do on some phones, it just seems like we aren't moving the smartphone game forward. I also can't stand having to physically press in a home button to get out of an app. On-screen keys on more responsive and flexible. And good luck accessing Google Now in an efficient way.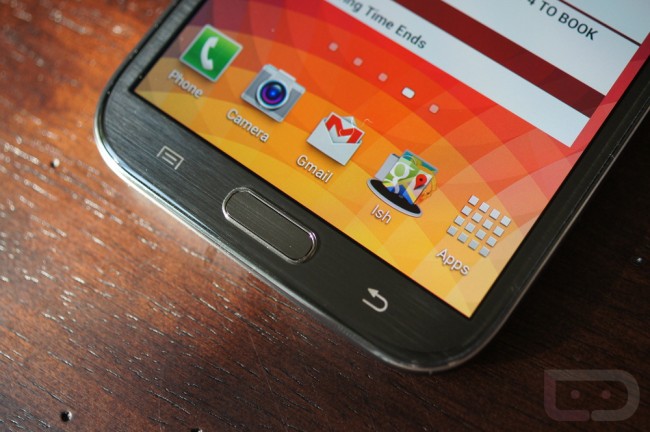 Where is Multi-window?:  When I sat down with Samsung a couple of weeks before they announced the Galaxy Note 2 for the U.S., they took me on a software tour of the S Pen and some of the other advanced features that were new. What they didn't show, was this really cool new multi-window feature that would later be outed in a Korean promo video for the phone. The feature allows you to multi-task like a pro, by splitting up the display into two resizable sections that can use multiple apps at a time. It's quite brilliant and very well done. Unfortunately for me and this review, the T-Mobile version of the phone does not have this multi-window feature, and it's disappointing. There is a pretty good chance that it will come at a later date via OTA update, but Samsung seems to be holding back on announcing anything. The good news is that a software leak of the Verizon version showed files that reference "multi-window," so it may have the feature out of the box.
No LTE on T-Mobile:  All of the Galaxy Note 2 variants for the U.S. contain an LTE chip. Since T-Mobile doesn't actually have an LTE network, this version of the phone can't take advantage of it. Once I get my hands on an LTE-ready AT&T or Verizon version of the phone, I'll be sure to update many of the sections of this review. Or better yet, we'll probably just post up a mini-review to reflect any differences.
Bloatware:  On the T-Mobile version of the Galaxy Note 2, I counted between 15 and 16 bloatware apps. There is a suite of T-Mo's junk, but Samsung is also at fault here. While their S Note and S Voice apps aren't going to offend many, they have plenty of others like Samsung Apps, Paper Artist, and Game Hub that I have absolutely no use for.
Gallery:
[nggallery id=12]
vs. Galaxy S3
[nggallery id=13]
The Verdict:
Oh, boy, the verdict. This is a tough one. The Galaxy Note 2 is an incredible smartphone, there is no denying that. What you will all have to decide is whether or not you can deal with the size on a daily basis. I personally, couldn't wait to get back to my "smaller" Galaxy S3, but that doesn't mean that the majority of you won't love the 5.5″ display and large body of the Note 2. There really are few negatives to this phone. It's powerful, polished, stable, and Samsung's best work yet. It's just one of those hybrid products that there is no way for me to say one way or the other if you are going to love it. You are the one buying your next smartphone, so if you think the Note 2 may be it, I suggest you go get your hands on one. Pocket it. Caress it. Use the S Pen. Snap photos. Navigate around the UI. Hold it up to your head and look in the mirror. Like what you see and feel? Then I think you have made your decision.