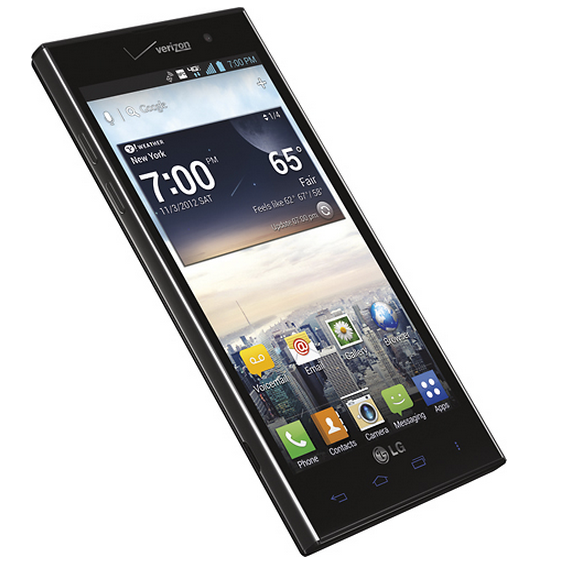 Verizon and LG made the Spectrum 2 official this morning. The device will go on sale October 30 (online only) for $99 on 2-year contract.
If you are looking for a phone with high-end specs at a reasonable price, this is one of those phones you may want to look into. With it's dual-core Snapdragon S4 processor, 4.7″ HD display, 1GB RAM, 16GB internal storage, 8MP camera, NFC, wireless charging, and 4G LTE, it matches up to the recently released DROID RAZR HD, except its $100 cheaper.
The Spectrum 2 is the U.S. version of the Optimus LTE2, in case you were looking for some history on it. 
VERIZON WIRELESS ADDS FAST, POWERFUL, TRUE HD SPECTRUM 2 BY LG TO 4G LTE LINEUP

Spectrum 2 Offers an Enhanced Wireless Experience, 4G LTE Speeds, True HD Display, Advanced Camera Capabilities and Stylish Design

BASKING RIDGE and ENGLEWOOD CLIFFS, N.J. – Verizon Wireless and LG Electronics USA today announced the Spectrum™ 2 by LG.  Exclusively for Verizon Wireless, the Spectrum 2 by LG will be available online on Oct. 30 at www.verizonwireless.com and will be in Verizon Wireless Communications Stores in the coming weeks for $99.99 after a $50 mail-in rebate with a new two-year customer agreement.

The Spectrum 2 by LG creates a unique wireless experience thanks to an ecosystem of features and accessories, allowing customers to avoid cables.  The unique battery cover allows wireless charging, and it's included at no additional cost.  Contacts, maps and websites can be shared wirelessly using near-field communications (NFC), by tapping two compatible phones together.  NFC can also be used with the included reprogrammable LG Tag+ stickers to create special smartphone modes for the office, home or car by tapping the stickers with the Spectrum 2 by LG.  SmartShare also makes it possible to wirelessly view pictures and watch videos on a DLNA-enabled device.

The 4.7-inch True HD display will make the Spectrum 2 by LG stand out by enhancing the viewing experience when streaming movies, playing games and browsing the Web.  The HD display, paired with Corning® Gorilla® Glass, delivers vivid and accurate colors, crisp, sharp text and clear images.  Apps such as viewdini, make it easier than ever to find TV shows and movies that users can enjoy right on their Spectrum 2 by LG.  Football fans will also be able to take advantage of the screen combined with 4G LTE speeds to watch live games for an unrivaled viewing experience.

The Spectrum 2 by LG helps to capture precious moments with its 8-megapixel camera and then takes it a step farther with its Advanced Image Editor and Video Wiz features.  With these features, customers will have an editing studio in their hands to crop, rotate and add effects to photos and other multimedia documents that they can then share with friends over 4G LTE.  The 1.3-megapixel front-facing camera allows customers to video chat with friends and family to easily stay in touch from virtually anywhere.  Additional camera features include 1080p HD video recording, Intelligent Panorama Shot and Time Catch Shot to take photos before pressing the shutter button.

Accessorize and Protect

LG Premium Sleeve with Smart Display – provides protection and displays notifications on the screen to show the number of missed calls, text messages, emails and voicemails.  Customers can also customize the clock styles that are displayed when the Spectrum 2 by LG is inserted in the sleeve.  The Premium sleeve will be available in stores and online atwww.verizonwireless.com for $24.99.

Additional Features:

Wireless charging capabilities thanks to the unique battery cover included in the box
4.7-inch True HD Advanced High Performance (AH) In-Plane-Switching (IPS) display
Global Ready™ so customers can have voice and data service in more than 220 countries
Android™ 4.0 Ice Cream Sandwich
Qualcomm Snapdragon S4 Krait 1.5 GHz dual-core processor
Mobile Hotspot to share a 4G LTE connection with up to 10 Wi-Fi-enabled devices
16 GB of internal storage (formatted capacity is less) with microSD memory card support of up to 32 GB
QuickMemo™ allows customers to capture screenshots and add their own personalized commentary or drawings with a finger
Bluetooth® Version 4.0

Pricing and Availability:

The Spectrum 2 by LG will be available online at www.verizonwireless.com starting Oct. 30 for $99.99 after a $50 mail-in rebate with a new two-year customer agreement.   Customers receive the rebate in the form of a debit card; upon receipt, customers may use the card as cash anywhere debit cards are accepted.

For additional information on Verizon Wireless products and services, visit a Verizon Wireless Communications Store, call 1-800-2 JOIN IN or go to www.verizonwireless.com.

About Verizon Wireless

Verizon Wireless operates the nation's largest 4G LTE network and largest, most reliable 3G network. The company serves nearly 96 million retail customers, including 90.4 million retail postpaid customers.  Headquartered in Basking Ridge, N.J., with more than 75,000 employees nationwide, Verizon Wireless is a joint venture of Verizon Communications (NYSE, NASDAQ: VZ) and Vodafone (LSE, NASDAQ: VOD).  For more information, visit www.verizonwireless.com. To preview and request broadcast-quality video footage and high-resolution stills of Verizon Wireless operations, log on to the Verizon Wireless Multimedia Library at www.verizonwireless.com/multimedia.

About LG Electronics USA

LG Electronics USA, Inc., based in Englewood Cliffs, N.J., is the North American subsidiary of LG Electronics, Inc., a $49 billion global force and technology leader in consumer electronics, home appliances and mobile communications. In the United States, LG Electronics sells a range of stylish and innovative mobile phones, home entertainment products, home appliances, and air conditioning systems and energy solutions, all under LG's "Life's Good" marketing theme. LG Electronics is a 2012 ENERGY STAR® Partner of the Year. For more information, please visit www.lg.com.