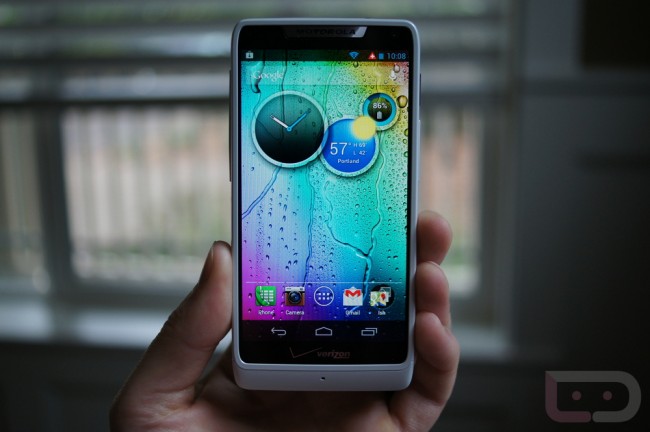 The first Jelly Bean build for Motorola's new lineup of RAZRs has leaked this weekend, and the DROD RAZR M is the beneficiary (Blur version 98.11.35). As you can probably guess, this is a first build and probably not the OTA update that this device will eventually see, so if you would like to flash it, just understand that there is a chance that you will be stuck on this build. At this time, there are not fastboot files available for the RAZR M, so again, if you jump to this, be prepared to be there for a while.
With that said, you do not need to be rooted to do this. You can flash this update right over top of your current 77.111.10 Android 4.0.4 build, hence the name of the file. 
Download:  Blur_Version.77.111.10.XT907.Verizon.en.US.zip
Instructions:
1.  Download the file from above and drop it on your SD card, not internal storage.
2.  Turn your phone off.
3.  Boot into recovery by pressing both Volume keys and the Power button.
4.  From the boot menu, use Volume Down to highlight "Recovery."
5.  Press Volume Up to select it.
6.  When the Android screen shows up, press both Volume keys.
7.  Choose "apply update from external storage."
8.  Then find the "Blur_Version.77.111.10.XT907.en.US.zip" file and select it.
9.  The update will now be applied.
*It's going to take a while, so be patient.
Via:  @P3Droid