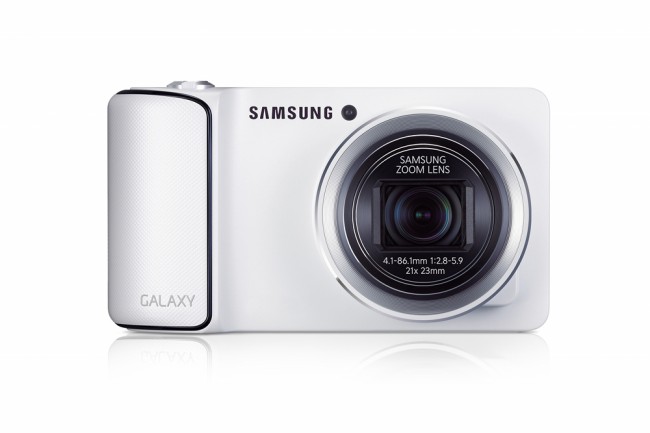 AT&T announced today that the it will be the first carrier to sell the Samsung Galaxy Camera. With its 4.8″ HD LCD display, quad-core processor, 16MP BSI CMOS sensor, and Jelly Bean (Android 4.1), this is quite the unique product. It can connect to AT&T's "4G" network, which we are assuming means HSPA+ and not LTE. The idea for it being tied to AT&T is probably similar to their tablet plan, which means you'll be able to add it for $10 or so to a shared data package. Unfortunately, we can't confirm that as pricing wasn't provided.
The Galaxy Camera should be available in the "coming weeks."
And yep, another exclusive for AT&T, while all we have seen from Verizon in the last couple of months has been the RAZR M. AT&T now has exclusives on the HTC One X and One X+, Nokia Lumia 920, and will be the first with this hybrid Android camera. 
AT&T FIRST TO LAUNCH GALAXY CAMERA – SAMSUNG DEFINES NEW CATEGORY WITH 4G CONNECTED CAMERA

Samsung Galaxy CameraTM combines high performance photography and AT&T 4G wireless connectivity to enable seamless sharing across devices and with social media

DALLAS, OCT. 4, 2012 — AT&T* and Samsung Telecommunications America, LLC (Samsung Mobile)1 today announced the Samsung Galaxy Camera™ coming to AT&T.  The Galaxy Camera combines high performance photography with Android™ 4.1 Jelly Bean and AT&T 4G mobile internet connectivity, resulting in a powerful point and shoot camera with a familiar, intuitive user interface and access to all of your favorite Android applications from the Google Play™ market.

The Galaxy Camera is a perfect fit for those who wish to shoot, edit and share brilliant photographs and video easily and quickly without connecting to a laptop or PC. The Galaxy Camera features a 4.8-inch HD Super Clear LCD screen, boasts a 21x optical zoom lens and a super-bright 16MP BSI CMOS sensor for shooting high-quality images close up and in low light conditions. This device is powered by a quad-core 1 GHz processor for quick and responsive performance ensuring you can capture the shots you want. It also includes powerful features like Smart Pro Mode technology, which allows you to toggle through a series of pre-set options that simplify the processes for taking professional-level images.

"Wirelessly enabling Samsung's Galaxy Camera will create a significant shift in how consumers share and communicate with photos and videos," said Chris Penrose, senior vice president, AT&T Emerging Devices. "By posting instantly to social networking sites or sending directly to another device, the person behind the lens is essentially offering family and friends the opportunity to share in the moments as they are actually experiencing them. We're excited that the AT&T wireless network will help enable these opportunities."

"Once again, Samsung has defined a new category of mobile devices and AT&T is leading the way to bring this device to consumers. The Galaxy Camera brings together Samsung's latest innovations in mobile and optical imaging technologies to provide the first connected camera running on the latest Android platform," said Dale Sohn, President of Samsung Telecommunications America.

In addition to being able to share to social networks and cloud services on the go, consumers can harness the speed and connectivity of AT&T's wireless network to share images and videos between Galaxy Camera and a range of Galaxy™ devices including the Galaxy S® III and Galaxy Note® II.

The Galaxy Camera is designed with several of the key content sharing features first introduced with the Galaxy S III including:

AllShare® Play

·   Locate Samsung HDTVs, laptops and other devices on the same Wi-Fi® network that are ready to receive photo and video files. Users can remotely access files from Galaxy Camera with other devices on their home network like a PC or Samsung Smart TV™.

Share Shot

·   Automatically send still images taken with the Galaxy Camera to other Galaxy S III, and Galaxy Note devices up to 200 feet away

Buddy Photo Share

·   Instantly and automatically tags faces of existing device contacts in photos making it easy to share with them.

Pricing for the Galaxy Camera will be announced when it goes on sale in the coming weeks. For more information on AT&T, please visit www.att.com.

*AT&T products and services are provided or offered by subsidiaries and affiliates of AT&T Inc. under the AT&T brand and not by AT&T Inc.

1Samsung Mobile is the No. 1 mobile phone provider in the United States based upon reported shipment data, according to Strategy Analytics, North America Handset Vendor Marketshare, Q2 2012.

4G when used in relation to Samsung devices refers to the fact that the devices can operate on AT&T's 4G network