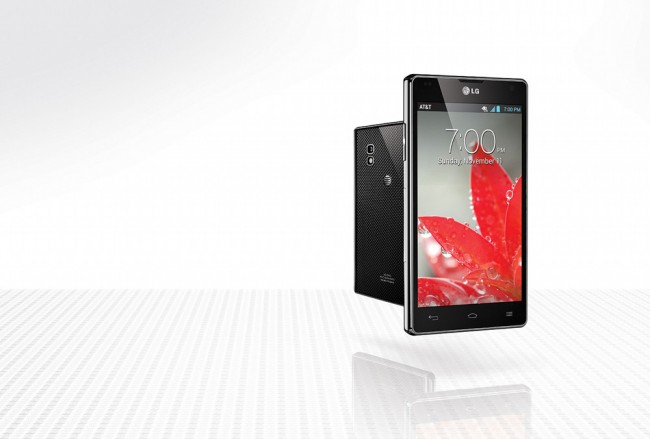 The LG Optimus G will arrive on AT&T and Sprint…at some point. According to LG, these two carriers will be among the first to offer it, we just don't know when that will be. We aren't even being told "coming weeks" or "soon" or "November" – it's basically a mystery. I would assume it will arrive before the holidays or this is the most pre-mature press release in history. Either way, Verizon customers should be saddened, as this phone is a true beast. 
With its Snapdragon S4 Pro quad-core processor, 2GB RAM, LTE, 4.7″ True HD IPS+ display, 32GB of internal storage, 2100 mAh battery, NFC, and improved suite of software features, there are few phones that can match up to it on paper. The actual user experience will be something we will focus on the minute we get one in our hands, but so far, I'm looking forward to this phone.
Once we have pricing info and a release date, we'll be sure to pass it on.
Sad that this won't be coming to Verizon or are you not interested in LG products?
Live Without Boundaries With The All-New LG Optimus G Coming From AT&T And Sprint

Leading U.S. Wireless Operators Among World's First to Offer LG Optimus G with Quad-Core Power and Speed

ENGLEWOOD CLIFFS, N.J., Oct. 3, 2012 /PRNewswire/ — LG Electronics today announced that the high-powered LG Optimus G superphone will be available in the United States on the AT&T and Sprint networks. As the world's first quad-core LTE (Long-Term Evolution) smartphone with the Qualcomm SnapdragonTM S4 Pro processor, LG Optimus G is not only one of the fastest phones on the market, but also one of the most powerful.

Designed to set a new standard in the industry, LG Optimus G combines LG's leading LTE, display and energy technologies with Qualcomm's Snapdragon S4 Pro processor to create an extremely fast and incredible mobile experience. Equipped with a high-density 2,100mAh battery and impressive 4.7-inch True HD IPS Plus display, Optimus G users can seamlessly multitask between personal, business and entertainment needs and go beyond the boundaries of traditional on-the-go smartphone capabilities.

"LG Optimus G is the culmination of cutting-edge technologies provided by LG's class-leading global entities," said James Fishler, senior vice president, marketing and go-to-market operations, LG Electronics USA. "Drawing upon expertise from the LG Mobile Communications Company, LG Display, LG Chem and LG Innotek , we have carefully designed a new superphone  that encourages users to step beyond everyday boundaries and explore a limitless world of power and creativity."

The elegant yet sleek design and the imaginative user experience displayed in the new Optimus G are made possible thanks to a collection of technologies from industry-leading developers in their fields. State-of-the-art display technologies from LG Innotek and LG Display such as True HD IPS Plus and Zerogap Touch, a unibody unit that eliminates the gap between the glass and the LCD panel, harmonize to offer one of the slimmest, sharpest and clearest viewing experience yet. The new battery from LG Chem has a longer life designed for multitasking. An ultra high-resolution, compact camera is employed in the Optimus G to offer super sharp photos without pixilation.

Sprint and AT&T will be among the first wireless service providers in the world to offer the LG Optimus G, which is powered by the new Qualcomm Snapdragon S4 Pro processor – a 1.5GHz quad-core CPU processor with Asysnchronous Symmetric Multiprocessing, which enables each core to power up and down independently to increase performance while saving battery life.

Combined with LTE technology, the impressive processor allows users to easily and quickly view a video while running other apps at the same time. All of this power and functionality is housed in a light weight, eye-catching slim body to cater to fashionable lifestyles. LG developed and patented Crystal Reflection to give the back cover the ability to display different patterns depending on the angle and lighting. The intricate pattern gives Optimus G a clean finish reminiscent of a jewel.

The Optimus G creates the perfect combination of pleasure and functionality through a unique user experience not seen on any other device. While mobile communication, business, and entertainment are easily accommodated with the Optimus G, the all-new device can also release one's inner artist with a wide range of features including:

The QSlide Function shows two different screens simultaneously on one display so users can quickly send an important work email while playing a graphic-intense video at the same time.
QuickMemo allows users to take notes on captured documents or photos with their fingers and instantly share with colleagues as an attachment or URL.
Live Zooming enhances viewing experiences by enabling consumers to zoom in up to five times while watching video to see small details normally hidden on the screen.
Photographs can be intensified with camera capabilities like Time Catch Shot, which empowers the user to choose the best photo among various shots taken before the shutter button is pressed.
Dual Screen Dual Play not only allows mirroring between the smartphone and a TV or monitor, it also has the ability to display different content on each screen. For example, a slide presentation can be displayed on the monitor while the Optimus G shows the accompanying speaking notes.
Creativity is also put to the test by the Icon Personalizer, which allows consumers to customize the sizes and images of their most-used apps.

Key Features:

Advanced 13 MP or 8 MP rear-facing camera with Time Catch Shot, "cheese shutter" and Smart Shutter and Low Light Shot Noise Reduction
Android 4.0 (Ice Cream Sandwich) operating system
Qualcomm Snapdragon™ S4 Pro processor with 1.5GHZ Quad-Core Krait CPUs and LTE
32 GB of memory or 16 GB of on-board memory and microSD slot pre-loaded with a 16GB SD card that can accommodate up to 64GB of expandable memory
4.7-inch WXGA True HD IPS Plus Display (1280 x 768 pixels)
Display technologies including Zerogap Touch
2,100mAh battery
Bluetooth® Version 4.0

Additional Features:

1.3 MP front-facing camera
Capable of 2G/3G/ 4G LTE networks
Crystal Reflection glass finish
DualScreen Dual Play feature that wirelessly displays different content on both a TV and the smartphone
Screen Zooming allows zooming in and out of lists in music player, email, text messages and the photo gallery for increased visibility.

About LG Electronics USA
LG Electronics USA, Inc., based in Englewood Cliffs, N.J., is the North American subsidiary of LG Electronics, Inc., a $49 billion global force and technology leader in consumer electronics, home appliances and mobile communications. In the United States, LG Electronics sells a range of stylish and innovative mobile phones, home entertainment products,  home appliances, and air conditioning systems and energy solutions, all under LG's "Life's Good" marketing theme.  LG Electronics is a 2012 ENERGY STAR Partner of the Year. For more information, please visit www.lg.com.