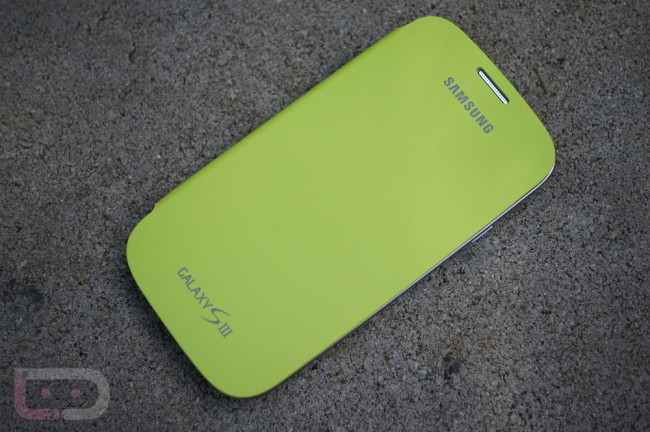 I reviewed the Galaxy S3 Flip Cover back when the device first launched, so I'm not going to talk about this one in much detail other than the color. This is really just me sharing the new colorways that Samsung has available and what the green version looks like in person.
As you can see, it's bright. Like, really bright. I'm sort of digging the look so far, just because it now looks like no other phone on the market. The back is neon-pastel-puke green. I know, I'm weird for admitting to liking this, but for whatever reason it has been growing on me over the last few hours. 
If you were getting bored with the Marble White or Pebble Blue color scheme on your device though, then you may want to consider this new pastel-inspired lineup of Flip Covers. Aside from this ultra bright green, you can also find a lighter blue, pink, and unbelievably bright yellow. All of these Flip Covers replace your back battery cover, so when you choose one, you are fully investing in the look.
Amazon has them at reasonable prices. Samsung wants you to pay $40 if you buy directly through them.
Amazon Links:  Green | Blue | Pink | Yellow [Samsung Link]
Gallery