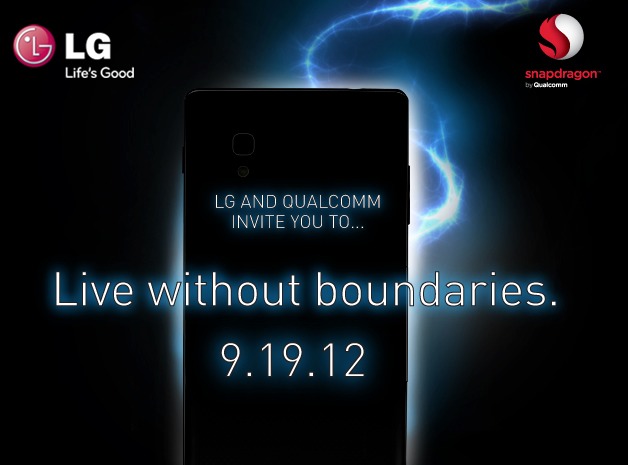 At the end of August, and just before the start of IFA in Berlin, LG announced the Optimus G. At the time, I referred to it as a "beast" because of its insane specs and the fact that the phone is the first to sport Qualcomm's new quad-core Snapdragon S4 with an Adreno 320 GPU. Beyond the processor, it also has a 4.7″ True HD IPS display with 320ppi and will look equally as good as the new iPhone 5 display because it's full sRGB. Not only will it look brilliant, but is the first to use LG's G2 Touch Hybrid technology which means the display itself is ultra thin and cuts down on reflections. We're talking a serious phone here, folks. 
So when LG invited us to their September 19 event in NYC where they have partnered up with Qualcomm, we immediately thought, "Optimus G for the U.S.?" We don't have confirmation on that being the case or anything, but what else could it be? Qualcomm wouldn't be headlining another dual-core Snapdragon S4 phone event, right?
We'll know for sure next week when our man Kover is on the scene.
Who isn't excited to see this?