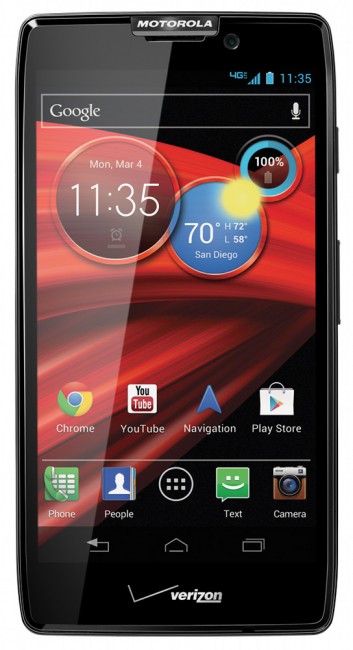 Motorola and Verizon announced three new phones today at a press event in NYC – DROID RAZR HD, DROID RAZR MAXX HD, and DROID RAZR M. The two HD models will be available some time before the holidays while the RAZR M will be up for pre-order today at 5PM ET and in stores on September 13.
The DROID RAZR HD and MAXX HD sport 4.7″ HD Super AMOLED displays, 1.5GHz dual-core processors, 8MP rear cameras, NFC chips, and incredible battery life. The MAXX HD will give you 13 hours of continuous video playback, 21 hours of talk time, and web browsing for up to 8 hours. These are the new flagship devices that will take Motorola into 2013.
The RAZR M on the other hand will retail for $99 on new 2-year contract and can be pre-ordered in just a few short hours. It sports an almost edge-to-edge 4.3″ Super AMOLED Advanced display, 1.5GHz dual-core processor, NFC chip, and should pack a long battery life as well. It's a solid phone, but at such a low price, it's a winner in our books, on paper.
All of these phones will have white counterparts it appears. Well, at least the RAZR HD and RAZR M.
More cover on the way! 
Gallery:
Press Release:
VERIZON WIRELESS AND MOTOROLA ADD THREE NEW AND EXCLUSIVE 4G LTE DROID RAZR™ SMARTPHONES

All the Power, Battery Life and Cool Design of DROID RAZR™ with the Speed of 4G LTE Three Times Over

BASKING RIDGE, N.J., and LIBERTYVILLE, Ill. – Verizon Wireless and Motorola Mobility today announced that they are adding three new and exclusive smartphones, DROID RAZR™M, DROID RAZR™ HD and DROID RAZR™ MAXX™ HD, to the DROID RAZR™ by Motorola family on the Verizon Wireless 4G LTE network.

All three devices offer the power and reliability that customers have come to expect from Motorola and Verizon Wireless.  DROID devices give customers speed, power and revolutionary technology, while the RAZR design delivers a thin, compact device built with strong, top-of-the-line materials and long-lasting battery life.  The new smartphones are powered by the Verizon Wireless 4G LTE network, giving customers the capability to simultaneously talk and browse the Web and also access the blazingly fast speeds that cover more than 75 percent of the U.S. population.  With three brand new options, this lineup has something for everyone.

DROID RAZR M: The Full-Screen Phone

DROID RAZR M is an unbelievably compact smartphone that puts the world in the palm of your hand with an edge-to-edge 4.3-inch Super AMOLED™ Advanced display.  Customers will be amazed with the DROID RAZR M's design, which is significantly shorter and narrower than the original DROID RAZR, yet includes the same size display, making it the most compact 4.3-inch 4G LTE smartphone.

DROID RAZR M also features powerful Web browsing capabilities by combining Verizon Wireless' 4G LTE network with the speeds of Chrome™ for Android™ mobile browser for an unrivaled mobile Web experience.

The DROID RAZR M's SMARTACTIONS™ feature maximizes battery efficiency with every charge, allowing customers to browse the Web and watch videos without worrying about draining their device's battery.

DROID RAZR HD: Performance and Power

Building on the DROID RAZR legacy, the new DROID RAZR HD expands the innovation with a new 4.7-inch Super AMOLED HD display that allows movies, photos, magazines and even websites to appear with vivid clarity.  DROID RAZR HD provides customers with 78 percent more pixels for a more vibrant display and features 40 percent greater battery capacity than the original DROID RAZR.

The viewdini app is at its best with the HD display and 4G LTE speeds to watch movies, television shows and other video content.  Viewdini brings the power of Verizon Wireless' 4G LTE network to the screen by streamlining access to videos from a wide range of content providers, including cable operators, websites and other popular video sources.  The viewdini app can be downloaded from Google Play.

DROID RAZR MAXX HD: Long Live the Battery

Packed with the same leading features as DROID RAZR HD, the DROID RAZR MAXX HD raises the industry standard for battery life with 32 hours of normal use.  The DROID RAZR MAXX HD is remarkably thin, yet packs sufficient battery power for 13 hours of straight video playback, enough to watch a movie trilogy without needing a charge.  Customers also have enough battery life to talk the day away with up to 21 hours of continuous talk time or browse the Web on 4G LTE for up to a full eight hours.

A Trilogy of Premium Design, Speed and Features:

4G LTE – customers can expect fast download speeds of 5 to 12 megabits per second (Mbps) and upload speeds of 2 to 5 Mbps in 4G LTE coverage areas.
Interactive Circles Widget allows quick access to notifications, weather, time and more
Quick Settings can be accessed directly from the home screen so customers can easily manage their volume profile, Wi-Fi, Bluetooth®, GPS and more
Enhanced Help Guides provide interactive tutorials, help topics and tips to become a DROID RAZR expert
Global Ready so customers can have voice and data service in more than 205 countries
Business ready with enterprise grade security and data encryption, remote wipe, complex password support, IPsec multi-headed VPN client and Microsoft Exchange ActiveSync® support
1.5 GHz dual-core processor and 1 GB RAM
Mobile Hotspot – Share a 4G LTE connection with up to eight Wi-Fi-enabled devices
8-megapixel camera with LED flash and 1080p HD recording
Front-facing camera for video chatting
NFC-enabled so customers can send contacts, links, maps and more directly to compatible phones with Android Beam™
Corning® Gorilla® Glass display, DuPont™ KEVLAR® fiber and water-repellent nanocoating
microSD™ card slot with support for up to 32 GB

The new DROID RAZRs run Android™ 4.0 Ice Cream Sandwich (upgradeable to Android 4.1 Jelly Bean by end of 2012) and come with the best of Google Mobile Services, including:

Chrome™  for Android™, giving a personalized Web experience
Google Play™, apps and games, millions of books and songs, thousands of movies and TV shows
Google Maps™ for Android (Beta) for voice-guided, turn-by-turn directions
Voice Actions for Android™, letting customers control their phones with their voice
Google+™, which can automatically upload photos to a private album online
YouTube™, watch videos in stunning HD, Preload subscribed channels or individual videos and the YouTube app will automatically download videos over Wi-Fi while the phone is charging – making them ready to watch in an instant

Pricing and Availability:

DROID RAZR M will be available for pre-order starting today, September 5th, at 5 p.m. ET at http://www.verizonwireless.com/droidrazrm and will be available on September 13th in Verizon Wireless Communications Stores and online athttp://www.verizonwireless.com for the introductory price of $99.99 after a $50 mail-in rebate with a new two-year customer agreement.  Customers receive the rebate in the form of a debit card; upon receipt, customers may use the card as cash anywhere debit cards are accepted. The DROID RAZR M will be available in either Black or White.
DROID RAZR HD and DROID RAZR MAXX HD will be available before the holidays. The DROID RAZR HD will be available in either Black or White and the DROID RAZR MAXX HD will be available in Black.
Customers who purchase a DROID RAZR M, DROID RAZR HD or DROID RAZR MAXX HD will need to subscribe to a Verizon Wireless data plan. Share Everything Plans allow customers to add smartphones to their account for $40 monthly access. For additional information, customers should go to www.verizonwireless.com/shareeverything

About Verizon Wireless

Verizon Wireless operates the nation's largest 4G LTE network and largest, most reliable 3G network. The company serves 94.2 million retail customers, including 88.8 million retail postpaid customers.  Headquartered in Basking Ridge, N.J., with 78,000 employees nationwide, Verizon Wireless is a joint venture of Verizon Communications (NYSE, NASDAQ: VZ) and Vodafone (LSE, NASDAQ: VOD).  For more information, visitwww.verizonwireless.com. To preview and request broadcast-quality video footage and high-resolution stills of Verizon Wireless operations, log on to the Verizon Wireless Multimedia Library at www.verizonwireless.com/multimedia.

About Motorola Mobility

Motorola Mobility, owned by Google, fuses innovative technology with human insights to create experiences that simplify, connect and enrich people's lives. Our portfolio includes converged mobile devices such as smartphones and tablets; wireless accessories; end-to-end video and data delivery; and management solutions, including set-tops and data-access devices. For more information, visit motorola.com/mobility.

MOTOROLA and the Stylized M Logo are trademarks or registered trademarks of Motorola Trademark Holdings, LLC. Android, Chrome, Google+, Google Maps, Google Play and YouTube are trademarks of Google Inc. LTE is a trademark of ETSI. KEVLAR® is a registered trademark of DuPont used under license by Motorola Mobility LLC. Corning and Gorilla are registered trademarks of Corning, Inc. All other trademarks are the property of their respective owners.  © 2012 Motorola Mobility LLC.  All rights reserved.