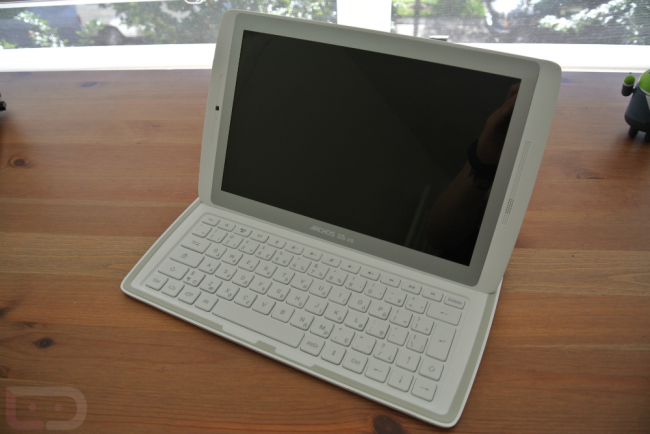 Watch out, folks. Archos is looking to make a blast in the Android tablet market with their new Gen10 lineup of devices. The first to debut is the 101 XS. While it's a 10.1″ tablet, featuring Ice Cream Sandwich and a pretty beefed up OMAP 4470 processor, it looks to be a direct competitor to ASUS' Transformer line. I've been playing around with it in my day to day routine for almost a week now and have a pretty solid opinion on some of the tablet's highs and lows. 
Thoughts:
As far as overall specs, the 10.1″ display features a 1280×800 resolution, a 1.5GHz dual-core OMAP chip, 1GB of RAM, and 16GB of on-board storage which is expandable to 64GB. The main feature Archos is pushing with the device is the accompanied "Coverboard." It is a magnetic full keyboard/screen cover that definitely differentiates this device from any other tablet on the market. Sure, others may have keyboard docks, but the only thing making this one different is the fact that it attaches through the magic of magnets.
Archos claims the tablet will receive a Jelly Bean update sometime in Q4, which is fine since market availability in the US doesn't begin until November. The price is set at $400, and this does include both tablet and coverboard. To help you ease into that price, Archos threw in a copy of OfficeSuite Pro ($15 value) to let you know just how handy this thing can be when editing Word, Excel, and other documents.
Gallery:
Hands-On:
Conclusion:
So, should you go ahead and spend $400 on this thing? I would have to say "No." With the selection of Android tablets becoming evermore vast, people looking for a decent and cheaper Android tablet should probably go ahead and check out one of ASUS' offerings. Better build quality and much better software.
During my time spent with this device, I tried to think of who or what type of user would benefit from this tablet. To this day, I still haven't answered that question to a degree I am comfortable with. Props to Archos for trying something new, but I just find myself unimpressed with the hardware at that price point.