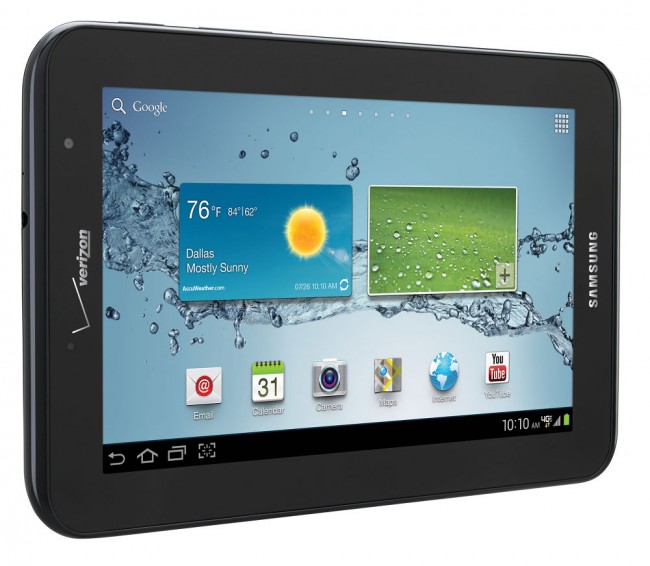 Verizon announced this morning that they will begin to carry a 4G LTE powered Samsung Galaxy Tab 2 (7.0) as of this Friday, August 17. For $349, you can add this to your ongoing tablet collection and attach it to your Share Everything plan for just $10 extra per month. The price is an off-contract price, as Verizon killed off subsidized tablet pricing once their shared data plans went live back in early July.
This tablet is not necessarily new and has been available as a WiFi-only model for months, but we know that there are users out there who can't live without 4G LTE at all times. The device rocks a 7″ screen, runs Ice Cream Sandwich with TouchWiz, has a 1.2GHz dual-core processor, 3.2MP rear camera, VGA front camera, and 8GB of internal storage that can be expanded up to 64GB through an SD card slot.
This is by all means, a mid to low-range tablet, hence the $349 price tag. Unfortunately for Samsung and Verizon, this tablet can't match up to the Nexus 7, so unless 4G LTE is a must for you in a big slate, it's going to be tough for us to recommend you run out this Friday and pick one up. 
Gallery:
Press Release:
VERIZON WIRELESS ADDS SAMSUNG GALAXY TAB 2® 7.0 TO EXPANSIVE TABLET PORTFOLIO

Affordable 7-inch Tablet with Access to Rich Multimedia on America's Largest 4G LTE Network

BASKING RIDGE, N.J., and DALLAS – Verizon Wireless and Samsung Telecommunications America (Samsung Mobile) today announced the latest addition to the Samsung Galaxy Tab portfolio, the Samsung Galaxy Tab® 2 (7.0), available beginning Aug. 17 in Verizon Wireless Communications Stores and online at www.verizonwireless.com. Galaxy Tab 2 customers will have access to the Verizon Wireless 4G LTE network which covers more than 75 percent of the U.S. population and will soon be available in more than 400 markets nationwide.

The Samsung Galaxy Tab 2 (7.0) features power and portability with its 4G LTE connectivity and 7-inch display making mobile entertainment easy.  The Galaxy Tab 2 runs Android™ 4.0 Ice Cream Sandwich, and comes loaded with multimedia-rich apps like Netflix and Samsung's Media Hub for watching movies and TV shows while on the go or on the couch. Customers can also take advantage of the compact design and use the Amazon Kindle app to keep their favorite books with them at all times. The Peel Smart Remote app turns the Galaxy Tab 2 into a universal remote, helping customers easily find their favorite shows, while eliminating the need for multiple remote controls.

The Galaxy Tab 2 is also a SAFE™ (Samsung Approved For Enterprise) device featuring on-device AES-256 bit encryption, enhanced support for Microsoft® Exchange ActiveSync®, and support for industry-leading Virtual Private Network (VPN) and Mobile Device Management (MDM) solutions.  Additionally, the Galaxy Tab 2 can maximize productivity with the Polaris® Office application to easily create and edit documents.  The app is optimized for tablets and has support for various file types like Microsoft Word, Excel®, PowerPoint®, Adobe® PDF, Zip files and more.

Additional features

4G LTE – Customers can expect fast download speeds of 5 to 12 megabits per second (Mbps) and upload speeds of 2 to 5 Mbps in 4G Mobile Broadband coverage areas
Android 4.0 Ice Cream Sandwich – Support for Google Mobile™ Services including Gmail™, YouTube™, Google Talk™, Google Search™, Google Maps™ and access to more than 600,000 apps available to download from Google™ Play Store
3.2-megapixel rear-facing camera and VGA front-facing camera for video chat
1.2 GHz dual-core application processor
Bluetooth® 4.0 technology
Multiple video file formats supported, including DivX and XviD support
Wi-Fi® Connectivity (802.11 b/g/n)
8 GB internal memory with support for up to 64 GB microSD™ card

Business features

Samsung's SAFE mobility solutions provide flexibility and connectivity for mobile workforces, ensuring that customers are able to operate more efficiently on the move.

Microsoft Exchange ActiveSync (EAS) – Customers communicate directly with Microsoft Exchange Server enabling push email, calendar and contacts
VPN and MDM support from Industry-Leading Solutions Providers – Supports industry-standard VPN protocols to help customers efficiently tap into VPN networks, and MDM capabilities that allow IT departments to effectively safeguard employees' mobile devices and corporate data
On Device Encryption – SAFE helps prevent unauthorized access to mobile data by leveraging the AES 256-bit encryption standard, encrypting all data, including app-specific internal data and internal/external memory

Price and availability

The Samsung Galaxy Tab 2 (7.0) will be available in Verizon Wireless Communications Stores and online at www.verizonwireless.com starting Aug. 17 for $349.99.
Customers purchasing the Galaxy Tab 2 will need to subscribe to a Verizon Wireless data plan.  Share Everything Plans allow customers to add the Galaxy Tab 2 to their account for $10 monthly access.  For additional information, customers should go to: www.verizonwireless.com/shareeverything.
For additional information on Verizon Wireless products and services, visit a Verizon Wireless Communications Store, call 1-800-2 JOIN IN or go towww.verizonwireless.com.

About Verizon Wireless
Verizon Wireless operates the nation's largest 4G LTE network and largest, most reliable 3G network. The company serves 94.2 million retail customers, including 88.8 million retail postpaid customers.  Headquartered in Basking Ridge, N.J., with 78,000 employees nationwide, Verizon Wireless is a joint venture of Verizon Communications (NYSE, NASDAQ: VZ) and Vodafone (LSE, NASDAQ: VOD).  For more information, visit www.verizonwireless.com.  To preview and request broadcast-quality video footage and high-resolution stills of Verizon Wireless operations, log on to the Verizon Wireless Multimedia Library at www.verizonwireless.com/multimedia.

About Samsung Mobile

Samsung Mobile (Samsung Telecommunications America, LLC), a Dallas-based subsidiary of Samsung Electronics Co., Ltd., researches, develops and markets wireless handsets and telecommunications products throughout North America. For more information, please visit www.samsungwireless.com.