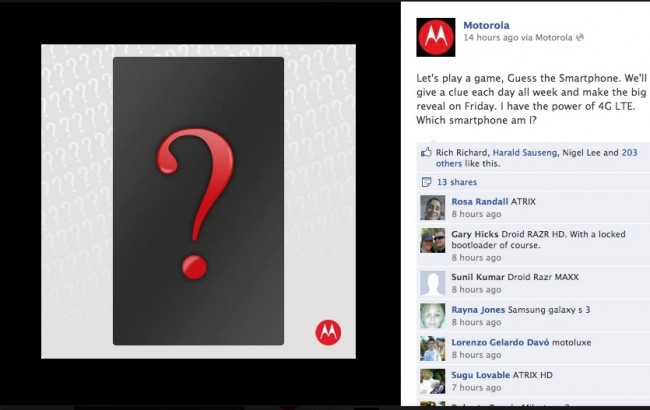 Late last night, Motorola posted the first clue of many that will lead up to the unveiling of a smartphone. According to a post on their Facebook page, they plan to give a new clue each day this week until the "big reveal on Friday."
The first clue, if you didn't' catch it, outs that the phone will "have the power of 4G LTE." With the Atrix HD and Photon Q already announced, what else could it be? The only phone of Motorola's on anyone's radar these days that hasn't been unveiled, would be the DROID RAZR HD.
I guess you could also take this new "game" as something to get people to interact on Moto's Facebook page, rather than them actually announcing a new phone. As in, they could give off clues for 5 days to a phone that has already been released (RAZR, RAZR MAXX, Photon Q, or Atrix HD), hoping that you stick around for 5 days to comment and "like" things on their page. We could get to Friday and the "big reveal" could be, "Great job, you guessed the Photon Q!"
Update:  Just as we speculated above, Motorola is not going to announce a new phone, but are simply playing a game. TechRadar was able to chat with a Moto spokesperson who said that this game is about "current" smartphones available, not a new one.
Again, a new clue will be dropped each day, so stay close to Moto's Facebook page to find out.
Via:  Facebook