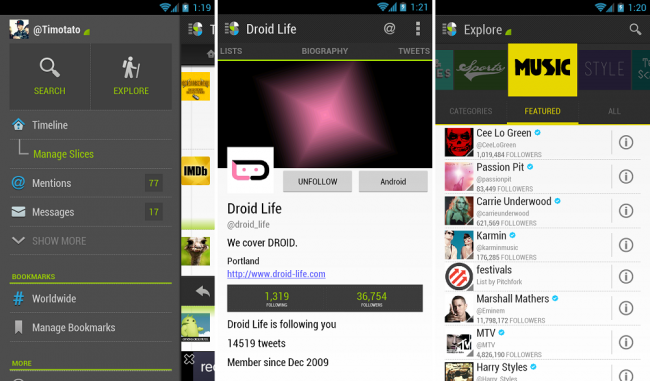 The OneLouder Apps team introduced a new Twitter client today, called Slices for Twitter. After seeing success with their other social apps like TweetCaster and BaconReader, they decided that your Twitter experience could be even simpler or more involved, depending on how you want to approach it.
Slices is for both beginner and advanced users who want to easily discover likable new content, browse the Twitter world by category (live events, celebs, music, etc.), bookmark favorite accounts, and synchronize it all between web and mobile device. 
Here are the major selling features in a bit more detail:
Twitter Directory– Slices is the only Twitter app with the "Explore" Twitter directory. With 21 browsable, searchable categories, finding people and lists to follow is astonishingly easy and fun.
Live Events – Only Slices has Live Event streams, making it easy to follow live events on Twitter. Each stream displays a feed of tweets from the "right" people for today's events, like sports, music, TV shows, and more.
Timeline Slicer– Another exclusive feature, Timeline Slicer helps users organize their timelines into "Slices". These are mini-feeds that users define, letting them read what they want, when they want it.
Bookmarks – Though a familiar concept to anyone who browses the web, Slices is the first Twitter app with bookmarks. Just like on a web browser, users can bookmark favorite Twitter accounts or lists for easy access.
Mobile-to-Web – Slices automatically synchronizes between mobile devices and the Slices website. No more struggles to find one's place in the Timeline, or re-reading notifications of messages/mentions.
If you still aren't exactly sure how this app works, I'd highly recommend that you watch the video below. The app, which may be useful for beginners too, can really be taken advantage of by Twitter power users. You can customize your stream, follow the most current events, and of course, continue your conversations through a beautiful UI. This is one of the better Twitter apps that we have seen in a while. It's not trying to be just another Holo-themed, panel-ish Twitter feed.
The app is free in the Play store, but you can upgrade for $4.99 to the ad-free version.
Play Link
http://www.youtube.com/watch?v=pXwCnE_4r1c