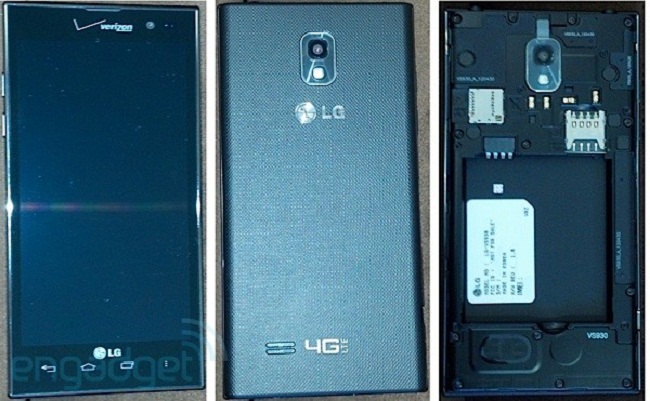 Here is the LG VS930. Previously known to most as the Optimus LTE2, we can now rest assured that LG will not bring a dedicated home button to Big Red. According to Engadget's source, we can expect the following specs from this device:
Android 4.0.4
1.5GHz dual-core Qualcomm Snapdragon S4 MSM8960 SoC
1GB of RAM
4.7-inch "True HD IPS" display (1280 x 720 pixels)
16GB of built-in storage
Global radio support (GSM/UMTS/CDMA/LTE)
NFC (it comes with programmable tags)
8MP camera
Along with the above picture and detailed specifications, a leaked PDF shows that this device could launch as early as July 13. Whoa, two days? Given that there hasn't been any indication from Verizon that this phone even exists, the chances of a July 13 release date is slim.
Earlier reports indicated that we could be hopeful for 2GB of RAM, but apparently that isn't happening anymore. Still, this should be one of LG's finer offerings to come to Verizon in quite some time. Your thoughts? Tempted to check out an LG device?
Via: Engadget
Cheers Tony and Mike!