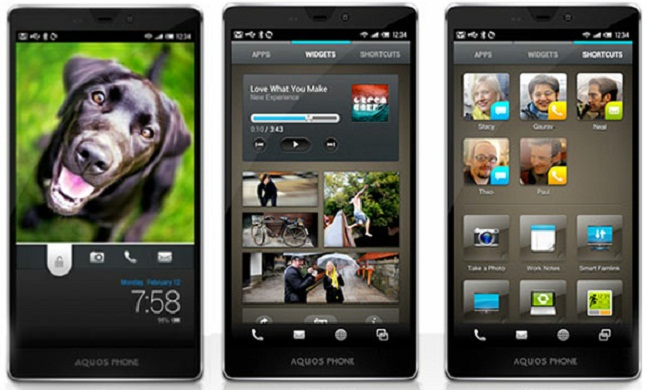 Sharp, whose AQUOS smartphones are quite successful in Japan, have teamed up with frog to create a new Android skin named Feel UX. By making the user experience more focused on the user's content (pictures, agenda, notes), Feel UX is Sharp's approach at allowing owners to feel more in control of their devices:
By simplifying the interaction model and reducing clutter through a more curated experience, it will be immediately apparent to customers how to use the phones and make them more personal.
From the preview we see in the below video, Sharp is attempting to achieve an experience that is centered around multimedia, but want it to also be simplistic and easy on the eye. They have replaced icons with huge matte boxes and their stock icons that seem to take up half the display while leaving little room for much else.
On the other hand, the lockscreen does look like a keeper. It has impressive music controls and notification shortcuts, but I don't feel that having a swipe-able photo gallery is really necessary. In short, I wish they just made the lockscreen a downloadable feature and left the rest out.
The new skin will be available this year over in Japan, but we do hope it finds a way over to the US somehow just so we can give it a good try.
frog Redefines Android Experience

The new Sharp AQUOS smartphones with Feel UX, designed by frog, will be available in Japan summer of 2012.

TOKYO, June 17, 2012 /PRNewswire-Asia/ — Leading design and innovation firm frog today announced that it has partnered with Sharp Corporation (Sharp) to create "Feel UX", a new Android smartphone experience that is easy to use, highly personalized, and visually stunning. The collaboration brings together a global interdisciplinary team of strategists, designers, and engineers across both companies to design a distinctive and meaningful connected experience for the next generation of Sharp's AQUOS smartphones.

According to global business analytics firm comScore, four out of five mobile phone users in Japan currently own a feature phone. However, in February 2012, the number of purchased smartphones surpassed the number of feature phones over the same period. This signals an ever-increasing importance for handset manufacturers to design and develop compelling and differentiated smartphone experiences for consumers.

"To capture the expanding market of smartphone users, we wanted the new Sharp AQUOS handsets to be a unique kind of Android experience, to look and feel different and standout from competitors," said Paul Pugh, Vice President, Creative, Software Innovation at frog. "By simplifying the interaction model and reducing clutter through a more curated experience, it will be immediately apparent to customers how to use the phones and make them more personal. In addition, the design caters to current Android users by giving them new tools to organize and optimize their handsets, while personalizing the phone in ways not previously possible."

The newly designed "Feel UX" for Sharp's AQUOS smartphones will be available in Japan during the summer of 2012 and include the following features:

Personalized and innovative lock-screen experience, allowing users to browse photos and widgets without unlocking the devices
Real-time weather display motion experience and animation
Desirable, gender-neutral palette and visuals
Streamlined, curated home space to smoothly manage applications, widgets, and shortcuts

"frog was chosen as Sharp's innovation partner because of the company's unique combination of consumer insights, strategy, design, and software engineering capabilities," said Itsuki Kouchi, Division Deputy General Manager, Global Product Development Center at Sharp. "Through our collaboration with frog, we have adopted an advanced approach to Android's concept, features, and philosophy, creating a distinctive device that will ultimately increase the life of the product and enhance customer satisfaction."
______________________
Some of our best videos.