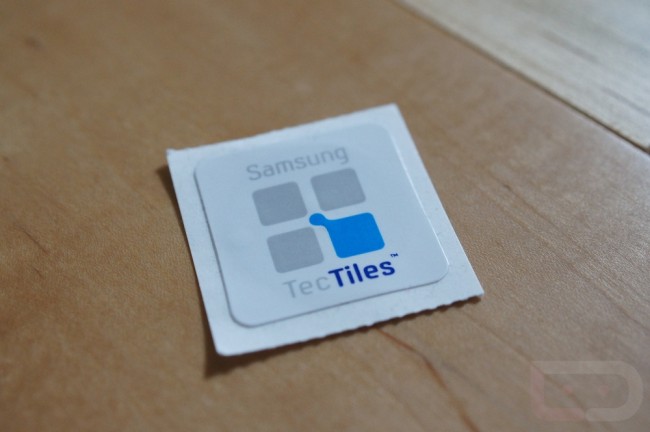 Tonight, Samsung announced their newest non-hardware creation called TecTiles. These are programmable NFC tags that will be available through major carriers at the launch of the Galaxy SIII. Their goal with TecTiles is to help NFC reach the masses and become a part of our everyday lives. Since the GS3, Galaxy Nexus, Nexus S, Galaxy SII (some models), HTC One X and so many other devices all have NFC chips inside, this should be simple, right? 
If you are not familiar with NFC stickers like these, I'll do my best to explain them. With an NFC sticker like TecTiles, one can program it to accomplish a single task that under normal circumstances would take more than a few seconds of your time. For example, you could program a TecTile (using your NFC phone to program it) to toggle WiFi on and off. Assuming you have an NFC-enabled phone, all you would have to do is touch your phone to this sticker and it should toggle your WiFi. A restaurant owner could place one inside the door of the building so that customers with NFC phones could quickly tap the sticker and check-in through Foursquare. You could place one of these stickers on your desk and have it automatically send a text to your wife that read, "Hi Honey, on my way home from work!" as you leave work. The possibilities are sort of endless if you think about it. You could launch an app with a programmable NFC sticker, post a Facebook update, open a webpage or even send a Tweet.
TecTiles specifically will be available for $14.99 for a pack of 5, again, at all major U.S. carriers. The TecTiles app that helps you program these as many times as you'd like, is available in the Google Play store.
Here is a link to the TecTile site.
Are you ready for mass NFC adoption? I sure am.
______________________________________
Samsung Mobile Puts All The Pieces in Place to Bring NFC To The Masses

Inexpensive, easy to use Samsung TecTiles™ Programmable NFC Tags can be customized to launch apps, send text messages, share contact information, change phone settings and more, with an NFC-enabled Galaxy smartphone

 DALLAS — June 13, 2012 — Samsung Telecommunications America (Samsung Mobile) is helping consumers realize the potential of NFC technology today with the creation of Samsung TecTiles™ and the TecTile™ programming application. With the largest user base of NFC-enabled devices in the United States and TecTiles available in all four major carrier stores and at major online retailers at the launch of the Galaxy S III, Samsung is ensuring NFC becomes a part of daily life.

With a simple tap of an NFC-enabled phone to a TecTile, consumers are able to automate everyday functions of a smartphone including sending a "headed/at home" text message, silencing the phone when entering a meeting, setting an alarm, and dimming the display when going to bed.

Samsung TecTiles will transform how businesses large and small engage with consumers. On premise, TecTiles enable consumers to check-in on Facebook® or foursquare®, connect to Wi-Fi® or download content. Off-premise, businesses can use TecTiles as a way to market to and engage with consumers by enabling reward programs and to download discount offers or content.

"With millions of NFC-enabled Samsung Galaxy smartphones currently in the market and the arrival of our flagship device Galaxy S® III, Samsung saw an opportunity to expand the value of NFC beyond mobile payments," said Dale Sohn, president of Samsung Telecommunications America, the No. 1 mobile phone provider in the U.S. and worldwide-. "The launch of Samsung TecTiles is another example of Samsung's ability to innovate new products and applications that improve the way we use our mobile devices for everyday tasks."

Samsung TecTiles are easy to program with any NFC-enabled smartphone and the free application, which can be found in the Google Play™ marketplace. TecTiles can be reprogrammed as often as needed to complete any of the following functions on an NFC-enabled phone:

 Settings & Applications

Change phone settings (Bluetooth®, Wi-Fi, ringer/media volume, screen brightness, etc.)
Launch an application
Join a Wi-Fi Network
Show a message

 Communication

Make a call
Send a text message
Start a Google Talk™ conversation
Share a contact or business card

Location & Web

Show an address on a map
Open a web page
Foursquare or Facebook check-in

 Social

Automatic Facebook "Like"
Update Facebook status
Post a tweet or follow a contact on Twitter
Connect on LinkedIn®

 Samsung NFC-Enabled Android TM Smartphones

Samsung Galaxy S® III on AT&T, Sprint, T-Mobile, US Cellular and Verizon
Samsung Galaxy S® II on T-Mobile
Galaxy Nexus TM on Verizon, Sprint and GSM Unlocked
Nexus TM S ® 4G on Sprint
Samsung Galaxy S® Blaze ® 4G on T-Mobile

Pricing/Availability

Priced at $14.99 for a pack of five, TecTiles programmable NFC sticker tags are now available for purchase online and in-store at AT&T, Verizon, Sprint, and T-Mobile. The Samsung TecTiles app is now available for download at the Google Play store.

© Samsung Telecommunications America, LLC.  Samsung, Galaxy, Galaxy S, and TecTiles are all trademarks of Samsung Electronics Co., Ltd. Android and Nexus are trademarks of Google Inc.  All other company names, product names and marks are the property of their respective owners and may be trademarks or registered trademarks. 

Links for more information:

Samsung TecTiles microsite
Galaxy S III U.S. Availability Announcement

About Samsung Telecommunications America

Samsung Telecommunications America, LLC, a Dallas-based subsidiary of Samsung Electronics Co., Ltd., researches, develops and markets wireless handsets and telecommunications products throughout North America. For more information, please visit www.samsungwireless.com.

About Samsung Electronics Co., Ltd.

Samsung Electronics Co., Ltd. is a global leader in semiconductor, telecommunication, digital media and digital convergence technologies with 2011 consolidated sales of US$143.1 billion. Employing approximately 206,000 people in 197 offices across 72 countries, the company operates two separate organizations to coordinate its nine independent business units: Digital Media & Communications, comprising Visual Display, Mobile Communications, Telecommunication Systems, Digital Appliances, IT Solutions, and Digital Imaging; and Device Solutions, consisting of Memory, System LSI and LED. Recognized for its industry-leading performance across a range of economic, environmental and social criteria, Samsung Electronics was named the world's most sustainable technology company in the 2011 Dow Jones Sustainability Index. For more information, please visit www.samsung.com.