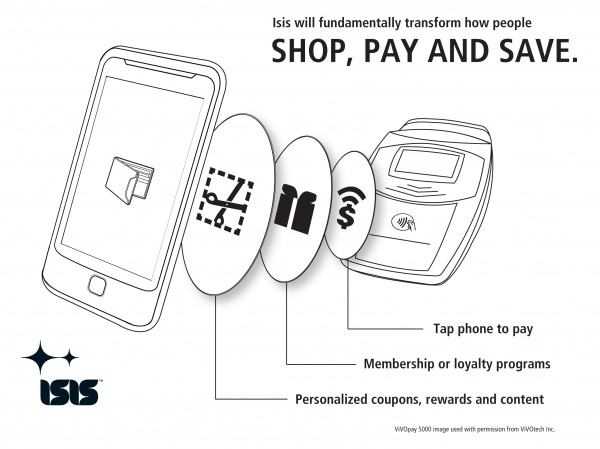 Isis Mobile Wallet will launch this summer in two test cities:  Austin,  TX and Salt Lake City, Utah. When that happens, owners of NFC-enabled phones in those cities will have "hundreds" of merchants to choose from that will take advantage of this new mobile payment option. As a service backed by Verizon, T-Mobile, and AT&T, Isis is going to be the payment option of the future – today's released list is evidence of that. 
Here is the list of merchants:
National:  Aéropostale, The Coca-Cola Company, Champs Sports, Dillard's, Foot Locker, Jamba Juice and Macy's.

Austin:  34th Street Café, ABC Home & Commercial Services, Austin Diamond District, Ben White Florist, Book People, Brodie Park Market, Chez Remy La Sandwicherie, Dogadillo, DoubleDave's Pizzaworks, Downtown Burgers, Elbe Body, Iron Works, milk + honey spa, Rosemary's Catering, Round Rock Express, Texenza Coffee, Touch of Sass, Twin Liquors and University Co-Op.

Salt Lake City:  Barbacoa Mexican Grill, Bohme, Cactus and Tropicals, Caputo's, Deseret Book, Eborn Books, Great Harvest Bread Company, JMR, Lola Bella, Maverik, McKay Diamonds, Mini's Cupcakes, Oakridge Country Club – private club for members, PGi Services, Salt Lake Running Company, Sugar House Coffee, Supersonic Car Wash, Utah Transit Authority, Utah Woolen Mills, Weller Book Works, Zagg and The Larry H. Miller Group, including All-Star Catering, Energy Solutions Arena, Fanzz, Larry H. Miller Megaplex, Larry H. Miller Automotive, Miller Motorsports Park, Salt Lake Bees, Spring Mobile Ballpark and Utah Jazz.
As you can see, Google Wallet has quite the battle on its hands and Isis hasn't even launched yet. And let's not forget that Isis already has partnerships in place with all of the major credit card companies, not just MasterCard. Isis will also partner closely with merchants to offer discount and loyalty programs.
Ready for Isis? It certainly seems like it is going to be our option, thanks to carrier downplaying of Wallet.
Via:  Isis