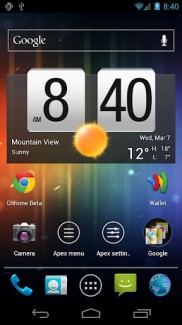 Back in the Gingerbread (and even Froyo) days, there was this original battle between top launchers that we followed ever so closely. For a lengthy period of time, you were either a LauncherPro guy or an ADW EX guy. Both were amazing launchers, but you couldn't deny that each had their die-hard base of users. After a while, we saw new players enter the market such as GO Launcher and a few others, but for the most part, those two dominated the field. Now with Ice Cream Sandwich, we are seeing a similar battle play out in front of our eyes. You are either a Nova Launcher user or an Apex Launcher user. For fans of Apex, today is a great day as the "Pro" version has been released to the market Google Play Store.
Almost 2 weeks ago, the newest beta of Apex was released and included many of the features that would become exclusive to the pro version. So if your beta expired (and it should have), your best chance to keep current is going to be through this new release. At $3.99, it's not cheap, but it's also not expensive. Devs who do this high quality of work need to be rewarded. 
The pro version features:
Multiple configurable drawer tabs
Unread count notifications
Dock swipe gestures
Two finger gestures
More transition effects
Batch add option for folders
Option to merge folder contents
Widgets in dock (1×1 only)
Overlapping widgets
More features on the way!
Play Link ($3.99)
Cheers to everyone who sent this!