We knew they were all coming, but HTC officially stole the show today at Mobile World Congress 2012 with the unveiling of their HTC One series. Even with specs leaking and pictures popping up across the globe, we should all still be impressed with what HTC has produced for the first half of this year. The One X is their flagship phone and the most impressive on paper, but the One S isn't far behind it as a next-gen phone. The One V is their lowest level of the three, yet still manages to include Beats audio and an extremely slim body while maintaing the unique look of the once iconic HTC Legend. Overall, this is one hell of a lineup of phones. They announced more than just phones though, but we'll start there and continue on throughout the afternoon.
We have pictures, specs and more after the break.  
HTC One X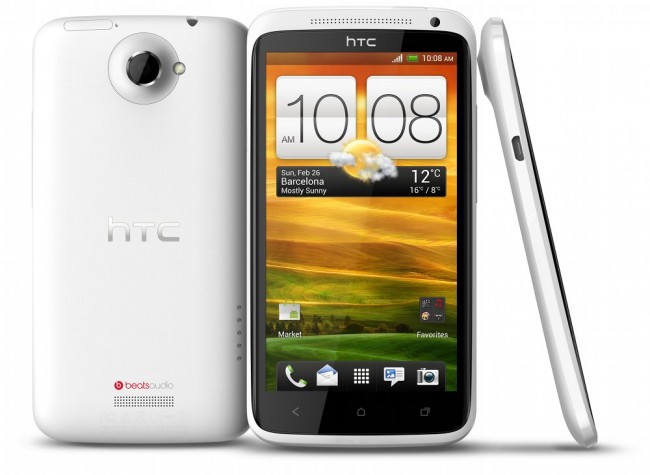 Starting with the big dog simply makes sense, so let's dive into the HTC One X first. What was rumored has now been officially confirmed on the spec front. The device will rock a 1.5GHz quad-core Tegra 3 processor (in most of the world), 1GB of RAM, Android 4.0 with HTC Sense 4.0, a 4.7″ Super LCD 2 HD screen with Gorilla Glass, NFC chip, 32GB of storage, 1800mAh non-removable battery, Beats audio, 8MP camera with F2.0 aperture and 28mm lens, and is ridiculously thin at 8.9mm. It will begin to ship globally in April. AT&T has this one locked up in the U.S. though.
HTC One S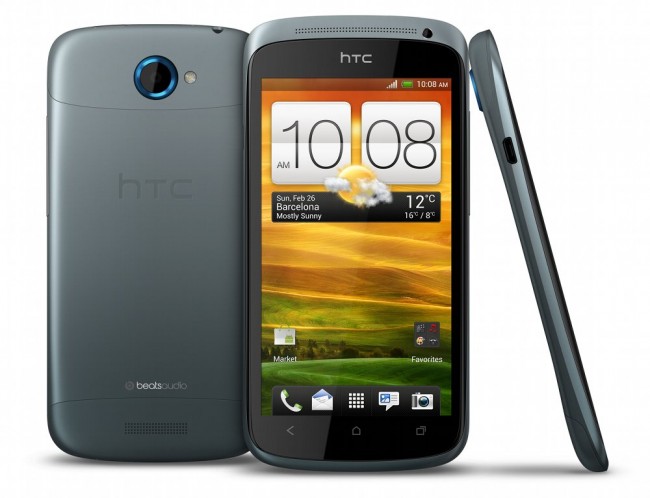 The One X may be the phone that everyone is talking about, but the One S should not be overlooked. Rockin' Qualcomm's Snapdragon S4 dual-core chipset, this phone is as powerful as any other phone we have seen come to life thus far. It also has a 4.3″ qHD display with Gorilla Glass, 1GB of RAM, 16GB of storage, Android 4.0 with Sense 4.0, Beats audio, the same amazing 8MP camera as the One X, 1650mAh battery, and an unbelievably thin 7.8mm body. HTC went with a ultra-matte black Ceramic Metal surface that is harder than aluminum and will keep better over time. It's a crazy good phone. The One S will ship with the rest of the One series in April. This puppy is headed to T-Mobile here in the U.S.
HTC One V
The One V is HTC's budget phone for early 2012. It has a single-core processor and 512MB of RAM, yet still runs Android 4.0 and a similarly amazing camera to the One S and One X. As you can see, it looks almost identical to the HTC Legend and HTC knows that. It will also ship in April.
Stay with us though, there is more on the way. HTC also announced some very exciting new camera technology along with more Beats integration. Like we said earlier, it's not all phones out of MWC today.
HTC ONE SERIES UNVEILED 

HTC One™ Highlighted by an Amazing Camera and Authentic Sound Experience 

Unprecedented momentum for HTC One series – available beginning in April with broad global availability through more than 140 mobile operators and distributors

BARCELONA, SPAIN – Mobile World Congress – February 26, 2012 – HTC, a global designer of smartphones, today unveiled its new HTC One series of smartphones that represent its most premium mobile experience with a new level of iconic design and amazing camera and authentic sound experience.

"The best moments in life are captured with a photo or remembered by a song, so it was key for the HTC One series to improve these emotional experiences with an amazing camera and authentic sound experience," said Peter Chou, CEO of HTC Corporation. "We are very focused on creating a camera and audio experience customers will love and use often and we believe the HTC One series delivers this in a way never seen on a phone before."

With HTC's most premium experience, the HTC One series integrates Android 4.0 (ICS) with HTC Sense™ 4, the new version of HTC's branded user experience that is introducing HTC ImageSense™, a new suite of camera and imaging features that set HTC One apart from other phones.  HTC Sense 4 also includes broad enhancements to audio quality and simplifies how people listen to music on their phone.

Amazing Camera

With ImageSense HTC One rivals traditional digital cameras with improvements to every part of the camera, including the lens, the sensor, the software, and even integrating a new custom HTC ImageChip. These enhancements combine to deliver our fastest image capture, best image quality under adverse conditions and easiest interface that enables quick access to capturing stills and videos with side-by-side photo and video capture buttons.

Superfast Capture – HTC One dramatically reduces the time it takes to capture those key moments. In just 0.7 seconds you're able to take a shot, and with a new superfast 0.2-seconds autofocus, continue to take nearly unlimited continuous shots simply by holding the shutter button.
Good photos in adverse conditions – HTC One delivers dramatic enhancements in image capture quality even in adverse conditions such as low light, no light or with bright backlighting. The f/2.0 lens on the HTC One X and HTC One S offers best-in-class performance, capturing 40 percent more light than the f/2.4 lenses available on other high-end phones. HTC One also includes HDR, a market-leading technology, for taking great photos even when there are varying levels of brightness.
Video Pic (Concurrent Video/Still Capture) – With Video Pic you capture a photo and shoot video at the same time.  Now, while you're shooting HD video, all you have to do is tap the shutter button and it snaps a high-resolution still photo while the video continues to shoot.  You are also able to capture a photo frame from a previously recorded video.
Dropbox integrated with HTC Sense – HTC One gives you an easy way to save and share your photos and videos. HTC has integrated Dropbox into HTC Sense 4 enabling HTC One customers to get 25 gigabytes of free Dropbox space for two years. That's enough to keep more than 10,000 high-quality photos. Dropbox is also integrated throughout HTC Sense 4, so it's easy to edit, save and share your documents and other kinds of files.
Sharing your photos and more – HTC One gives you a new way to share your photos and videos. When you plug in HTC's wireless Media Link HD* accessory into your TV's HDMI port, you can easily share your photos, videos, or anything else on your phone with your friends, family or colleagues regardless of the television's brand as long as it has HDMI.

Authentic Sound

With HTC One, Beats By Dr. Dre Audio™ integration is enabled for the first time across the entire experience for richer, more authentic sound whether you're listening to your favorite music, watching a YouTube™ video or playing a game.  HTC One also makes it easy to get and listen to your music on your phone with the built-in HTC Sync Manager software that automatically installs to your computer when connected. Once connected, it is easy to transfer songs, artists and playlists from your music library.

Of course, people today no longer just listen to the songs stored on their phones; they use streaming services and tune into Internet radio. So HTC One lets you customize the new Music Hub with your favorite services and music applications, like the latest Soundhound technology, giving you one place to go for all of your music.

HTC One lets you take all of your music anywhere, including the car. With HTC One, you get an easy way to bring your mobile music to your car's sound system with the HTC Car Stereo Clip*. It also lets you connect to your music through more than 50 thousand online radio stations worldwide or play music from any service or app on your phone through your car speakers.  All this makes HTC One the one place to enjoy all your music, wherever you are, with the power of Beats By Dr. Dre Audio and HTC Car.

HTC One X

The HTC One X features a beautifully crafted polycarbonate unibody that has the ruggedness of metal but is super lightweight. With seamless construction, the unibody combines a unique high gloss 'piano' finish and a matte back.  HTC One is blazing fast with the new NVIDIA® Tegra 3 Mobile Processor for clear graphics, faster applications and longer battery life. It includes a 1.5GHz Super 4-PLUS-1™ quad-core with an integrated fifth Battery Saver Core and a high-performance 12-Core NVIDIA® GPU.  The HTC One also has an amazing 4.7-inch, 720p HD screen crafted from contoured Corning™ Gorilla Glass. HTC One X will also be available in select 4G LTE markets with a LTE-enabled Qualcomm Snapdragon S4™ processor with up to 1.5GHz dual-core CPU's.

HTC One S

The HTC One S is for people who want a high-end smartphone in a more compact size. It is powered by a Qualcomm Snapdragon S4 processor with up to 1.5GHz dual-core CPU's. It also includes a 4.3-inch screen crafted from contoured Corning™ Gorilla Glass. HTC One S brings HTC's innovative metal unibody styling to a new thin 7.9-mm design, making it HTC's thinnest phone yet.  The HTC One S sports two new finishes that break new ground in mobile phone innovation.  The first is an ultra-matte black Ceramic Metal surface that is the result of a microarc oxidation (MAO) process originally developed for use in satellites. It transforms the surface of the aluminum unibody into a ceramic, super-dense crystalline structure that is four times harder than anodized aluminum, enabling the HTC One S to look great over time. The second finish for the One S takes anodizing to a new level with a new patented process that creates a light-to-dark gradient fade that looks gorgeous and sophisticated.

HTC One V

Utilizing the classic, award-winning design of the HTC Legend, the HTC One V brings top-end design to a smartphone with broad appeal and a premium experience that delivers an amazing camera and authentic sound.  It features a simple, iconic aluminum unibody design that exudes craftsmanship and quality.

Global Availability

With unprecedented excitement, the HTC One series will begin shipping in April with broad global availability available beginning in April through more than 140 mobile operators and distributors globally.  For more information and to pre-register for HTC One visit www.htc.com.

HTC One Series

Europe, Middle East and Africa – A1 Austria, BH Telecom Bosnia & Herzegovina, Bite Lithuania, Bouygues Telecom France, Cellcom Israel, Cosmote Greece, Cosmote Romania & Global Bulgaria, Cyta Cyprus, E-Plus Germany, Elisa Estonia, Elisa Finland, EMT Estonia,  Euroset Russia, Everything Everywhere UK, H3G Austria, H3G Denmark, H3G Ireland, H3G Sweden, H3G UK, KPN Netherlands, Turkcell Turkey, LMT Latvia, M-Tel Bulgaria, Meteor Ireland, Mirs Israel, Mobilezone Switzerland, Avea Turkey, MTN Cyprus, Netcom Norway, O2 Germany, O2 Ireland, O2 UK, Omnitel Lithuania, Orange Austria, Orange France, Orange Israel, Orange Poland, Orange Romania, Orange Slovakia, Orange Switzerland, Pelephone Israel, Play Poland, MTS Russia, SFR France, SiMobil Slovenia, Sunrise Switzerland, Svyaznoy Russia, Swisscom Switzerland, T-Mobile Austria, T-Mobile Croatia, T-Mobile Czech Republic, T-Mobile Germany, T-Mobile Hungary, T-Mobile Macedonia, T-Mobile Netherlands, T-Mobile Slovakia, TDC Denmark, Tele2 Estonia, Tele2 Latvia, Tele2 Lithuania, Telefonica Czech Republic, Telekom Slovenia, Telenor Denmark, Telenor Hungary, Telenor Montenegro, Telenor Norway, Telenor Serbia, Telenor Sweden, Telia Denmark, Telia Sweden, TIM Italy, Tusmobil Slovenia, Vipnet Croatia, VIP Mobile Serbia, VIP Operator Macedonia, Virgin UK, Vodafone Czech Republic, Vodafone Germany, Vodafone Greece, Vodafone Hungary, Vodafone Ireland, Vodafone Italy, Vodafone Netherlands, Vodafone Romania, Vodafone Turkey, Vodafone UK, Wind Greece  North America: AT&T, Bell Mobility, Best Buy, C-Spire, Cellcom, Fido, Metro PCS, Bluegrass, OpenMobile, RadioShack, Rogers Communications, T-Mobile USA, Target, TELUS, U.S. Cellular, Virgin Mobile, Virgin Mobile Canada Latin America: Cellcom,  Claro Argentina (América Móvil), Claro Perú (América Móvil), Claro Puerto Rico (América Móvil), Entel Chile, Iusacell México, Movistar Chile (Telefónica), nTelos, Telcel México (América Móvil), Telecom Personal Argentina, Telefónica Brazil,  Asia-Pacific: AIS, Bharti Airtel, China Mobile (TD-SCDMA), ChungHwa Telecom, 3HK, CSL, DiGi, DTAC, Fareastone, Globe Telecom, Indosat, M1, Mobifone, Maxis, Optus, SingTel, Smart, Smartone, StarHub, Taiwan Mobile, Telkomsel, Telstra, Viettel, Vinaphone, Vivo, Vodafone Australia, Vodafone New Zealand, XL Axiata, TRUE

About HTC

Founded in 1997, HTC Corporation (HTC) is the creator of many award-winning mobile devices and industry firsts. By putting people at the center of everything it does, HTC pushes the boundaries of design and technology to create innovative and personal experiences for consumers around the globe. HTC's portfolio includes smartphones and tablets powered by HTC Sense™, a multilayered graphical user interface that vastly improves user experience. HTC is listed on the Taiwan Stock Exchange (TWSE: 2498). For more information, please visit www.htc.com.