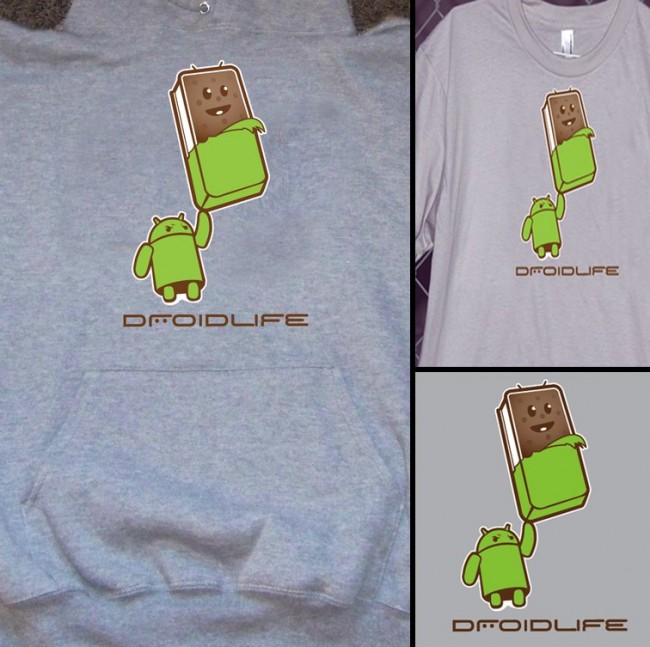 It has been a while since we last introduced a special edition Droid Life t-shirt or hoodie of any kind, so today we are releasing a new one. Our friends that have produced some of the more popular Android-inspired shirts of the last couple of years including "Exploded Andy" and "Andy vs." created the new design, and we couldn't be happier. What better way to celebrate DL and Android in 2012 than with a tasty Ice Cream Sandwich treat? "Raise up your latest mobile OS that all enthusiasts should be proud of!" We haven't given it an official name or anything just yet, so we'll look for those ideas from you guys in the comments. ("Icy Andy" or "A Bugdroid Sandwich"? Maybe? No.)
Since many of you requested hoodies the last time that we sold just t-shirts or t-shirts the last time we did hoodies only, we decided to give you the option for either this time around. For the first time, we have this special edition DL design available on American Apparel cotton tees or in ultra-comfy grey hoodies. Choices folks, choices.
As always, the design is available for a limited time, as in you have until Monday (2/20) at noon Pacific to get your orders in before the design is gone forever. Orders will then ship on Tuesday (2/21).
Prices:  $17 for the t-shirt – $24 for the hoodie.
Buy.