Last night, we first spotted a post from Motorola's new community blog – which was quickly removed – that detailed their plans to release a Motorola RAZR Developer Edition. That post is now live again along with a handful of other details that you may have had questions about. Moto's bootloader thoughts, plans for the future, and more have all been released. This new Euro RAZR is also up for pre-order if you are interested. We have it all for you down below.
Device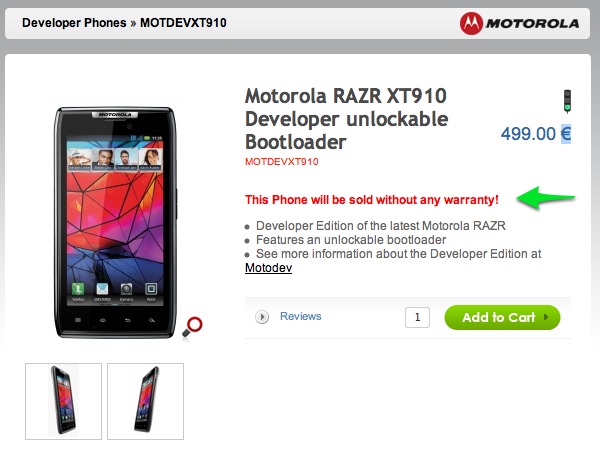 This new RAZR "Developer Edition" will be their first product since the Motorola XOOM to include an unlockable bootloader and is headed to Europe in the very near future. A specific date has not been given, but you can pre-order it now for 499€ or roughly $659. Once purchased, you will not have the standard manufacturer's warranty that you are used to. In fact, according to the Motorola Shop, this phone will come without a warranty whatsoever. If anything goes wrong, you are out $650. The fair price we agree to pay to have Android freedom and amazing hardware? Up to you.
Bootloader FAQ (a good read for everyone)
If you are unsure of what a bootloader is and how Motorola views it, you will want to check out their FAQ that has been posted this morning. Below, you will find some of the major points that everyone should take a glance at, but the section is long enough that you should probably read it in its entirety to see how things will be handled once we have a developer device from Moto here in the U.S.
What is a bootloader?

The bootloader is responsible for performing basic hardware initialization, verifying the integrity of the operating system, and starting the operating system, and it provides a method to update device software. This validation is important to verify that the software loaded on the device will not damage sensitive components (radios, processors, etc.) or violate regulatory or carrier requirements. Google provides a base bootloader as part of the Android operating system, and most device manufacturers optimize this for their specific devices.

What is "rooting"?

This means that the user has gained root or administrative privileges on the device. In general this allows the user to make modifications that would not normally be possible to a consumer or developer. With such privileges comes both risk and additional capability – it is best left to the very technically savvy. It is possible to make changes to the device that will permanently damage it or break it or render it entirely inoperable.

What does it mean to unlock the bootloader?

Unlocking the bootloader is the first step towards allowing the end user to gain root privileges and make modifications to the device. Such modifications could involve changing some of the pre-loaded software, or could even include replacing the entire operating system. Some developers and enthusiasts unlock and root in order to experiment with applications or with custom builds of Android.

Does unlocking the bootloader mean I can use my device with any wireless operator?

No, this does not disable a carrier subsidy lock if one exists. Some subscriptions are tied to a specific wireless operator and the phone cannot be used on another operator's network. A "locked bootloader" and "carrier subsidy lock" are thus two entirely different topics. Do not unlock the bootloader if you are seeking to disable the carrier subsidy lock.

Will all of my data and applications be there after unlocking?

No. All user data on the internal partition is erased when you unlock the bootloader, so you may need to move data back to your device, set up user accounts, etc. This is like a factory reset, but data or applications on a removable SD card will not be deleted. However, any apps that depend upon user data on the internal partition will not be able to access this data. Encrypted data on a removable SD card will also be inaccessible as the encryption keys are removed when unlocked.

Can I re-lock my device after I have unlocked the bootloader?

Yes, by re-loading an original Motorola software image and re-locking the bootloader. Find the correct image on the MOTODEV Device Software page, download it to a computer, and using the Android SDK, follow the instructions listed on the page to flash and re-lock your device. Re-locking your device does not change the warranty status or legal agreement under which the product was sold.

Will I receive software updates automatically after I have unlocked the bootloader?

Not necessarily; it will depend on what modifications you have done to the software. You can however get the original software released for the device from the MOTODEV Device Software page, download it to a computer, and using the Android SDK, follow the instructions listed on the page to flash or update your device.

The Motorola RAZR™ Developer Edition will launch with which version of the Android OS?

The Motorola RAZR™ Developer Edition available in the EU will launch with Gingerbread.
The rest of Motorola's bootloader FAQ can be found here.
Software Images
Just like the XOOM, you will find full software images for the RAZR at the MotoDev software site. If you need to re-lock or flash your device back to the way it came out of the box, this is where you will find the tools to do exactly that. Since there is no warranty on the device, these files will really be used to get you back on the update path or to fix your phone should you soft-brick it.
Software Updates
From what we have read this morning, Motorola has made it sound like they will deliver updates to their unlockable devices. Those plans have not been made public yet, but should be once this first phone has been released.
Bootloader Forum
I'm not so sure this was the brightest idea to come out of Moto in the last couple of years, but yes, they have created a bootloader forum for you all to troll. Actually, try to at least add to the conversations that are going on over there rather than just spouting off "unlock <insert device name> bootloader!" We wouldn't want to see this get shut down.
More Info
They are calling this site their "instructions page." News regarding bootloaders going forward will likely be posted at this MotoDev blog.
And that's that. Has anyone decided to pre-order the new "Developer Edition" RAZR?
Cheers Nathan and Mark!