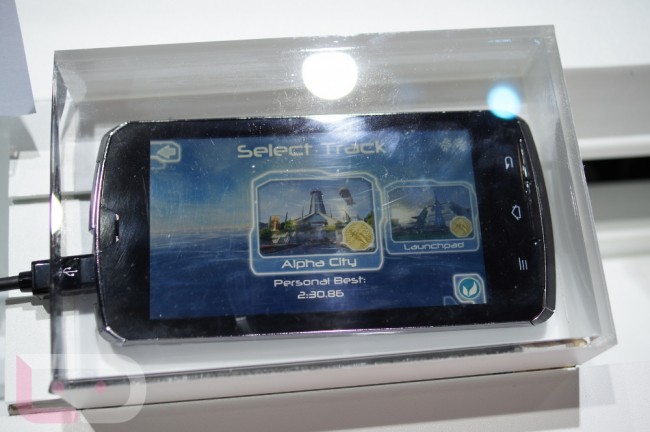 Last night at PepCom's Digital Experience, we swung by the Fujitsu booth since there were rumors of them having some sort of a quad-core Tegra 3 phone in Vegas. While they didn't have it with them, they said to stop by their CES booth today because it would be on display. They weren't lying, you are looking at it above.
Keep in mind that this is a prototype and may not be anything close to the final product. It was hooked up via HDMI to a TV though, running Riptide for Tato to ball out on. Overall, it ran incredibly well, we just wish we could have actually touched it.
Thankfully, they did have a life-sized flyer of specs for it. According to Fujitsu, this phone will sport a 4.6″ "HD-quality" liquid crystal screen, 13MP camera, Tegra 3 quad-core processor clocked at 1.2GHz, and is "LTE-compatible."
Their plan is to show off a much more finished product at MWC next month. Also, from what we heard around CES this afternoon, there may be a handful of quad-core devices to drool over come February 27. While CES so far has been sort of uneventful for the most part compared to last year, February should be nutty.
More pics below.