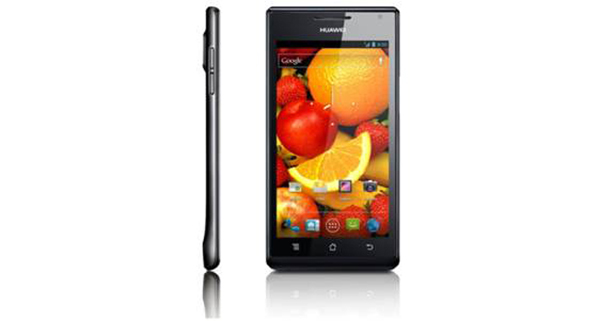 The Motorola RAZR had a good run, but it is no longer the slimmest phone in the world. That title now belongs to the phone Huawei just announced at CES 2012, the Ascend P1 S. This 4.3″ 960 x 540 touchscreen has Corning Gorilla Glass (the original Gorilla Glass, not the 2 that we expect Corning to show this week) protecting its sleek body that houses a 1.5GHz dual-core processor inside. And it's only 5.68mm thick, the RAZR being 7.1mm.
The press picture is not lying either, the phone will launch with Android 4.0 Ice Cream Sandwich. An 8MP camera on the rear and a 1.3MP shooter on the front are your camera options and the back has a dual-LED flash to light up those darker pictures for you. It will be available in  black, white and pink for you fashion conscious people out there. No mention of LTE radios yet though, that will remain to be seen. Keep an eye out for our hands-on with this phone later this week.
Las Vegas, U.S.A., January 9, 2012: Huawei, a leading global information and communications technology (ICT) solutions provider, unveiled the world's slimmest smartphone today at the 2012 Consumer Electronics Show (CES). The Huawei Ascend P1 S is 6.68mm thin and features a 4.3-inch Super AMOLED 960 x 540 touchscreen with Corning®Gorilla® Glass. The Ascend P1 S is also the fastest and most compact smartphone in its class with a dual-core 1.5GHz TI OMAP 4460 Cortext-A9 processor and Android 4.0 Ice Cream Sandwich operating system.

"We're excited to unveil the world's slimmest smartphone here at CES 2012," said Richard Yu, Chairman of Huawei Device. "The Ascend P1 S demonstrates our ongoing commitment to innovating high quality devices that utilize the latest hardware and software technologies."

Huawei also unveiled the Ascend P1 which, as part of the same smartphone series, boasts the same functionality while measuring 7.69mm. Delivering the ultimate in elegance and speed with a 1670mAh/1800mAh battery, the Huawei Ascend P1/P1 S series provides the fastest multi-tasking, video replay and gaming experience in its class.

The Huawei Ascend P1/P1 S series feature a super-sleek and narrow 64.8mm body, elegant contours and an effortlessly stylish design. The PPVD back cover coating evenly distributes heat, and provides a strong metallic, three-dimensional design with a delicate texture. The Ascend P1/P1 S is available in metallic black, ceramic white and cherry-blossom pink with more colors to come to match your personal style wherever you are, whatever you're doing.

The Ascend P1/P1 S brings your digital world to life with its impressive 8-megapixel BSI rear-facing and 1.3-megapixel HD front-facing cameras with dual flash LED and HDR effect optimization. The Ascend P1/P1 S allows you to capture special moments in sharper, brighter and clearer detail both in light and dim environments. Relive your most memorable moments on the Huawei Ascend P1/P1 S with its stunning 1080p HD video-capture capabilities. Its high speed data connectivity through 3G, WiFi and Bluetooth and in-built social media capabilities enable you to instantly share your photos and videos via social media.

The Huawei Ascend P1/P1 S will be available in Europe, Asia-Pacific, North America, Australia, Middle East, and China from April 2012.

About Huawei Device

Huawei Device believes that everyone can be the center of information and that the world would be a better place if access and information barriers were knocked down. Its strong suite of mobile phones, mobile broadband devices and home devices is testimony to Huawei Device's focus on customers and its commitment to providing user-friendly mobile internet experiences through ongoing innovation. Based on more than two decades of success in the information and communications industry, and with our own channel expertise, operational capabilities and global partner resources, Huawei Device is transforming from a company that sells millions of devices in single transactions to large businesses, to a "Business-to-People" (B2P) brand that also sells individual devices directly to millions of people. As at the end of 2011, Huawei Device serves more than 500 operators all over the world. For more information, visit Huawei Device online: www.huaweidevice.com
______________________
Some of our best videos.